This week we celebrate those who are leading the way through the tough times as we count down to naming the New Zealand Herald Business Leader of the Year. The winner will appear in the Weekend Herald on Saturday.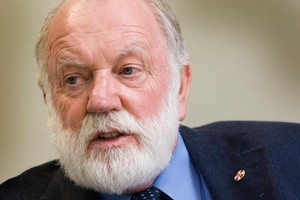 Corporate raider Tony Gibbs was sacked by his mate Sir Ron Brierley this year but he stood up for shareholders in the process.
After 18 years with Guinness Peat Group, Gibbs was fired by his fellow board members after releasing a statement to the New Zealand Stock Exchange publicly opposing the company's plans to spin off its Australian business.
The plan was already strongly disliked by the New Zealand investment community and despite talks with Australian director Gary Weiss, the board did not appear to be wavering.
After being fired Gibbs said he knew speaking out would lead to his dismissal but it was a matter of principle.
"It was important to me. I was struggling with myself. The choice was between doing the right thing and not wanting to let my colleagues down," he said at the time.
Gibbs was given days to pack up his office and clear out, although he remains chairman of both insurance company Tower and Turners & Growers, which GPG has large stakes in.
It was a catalyst for change at GPG. Sir Ron paid a visit to New Zealand to talk to fund managers and shareholder representatives about their concerns. The result has been the appointment of four new independent directors to the board - three New Zealand-based.
For the first time in the firm's 20-plus years the board has more independent directors than share-owning executive directors.
With more free time, Gibbs has become the inaugural patron of the Howard League for Penal Reform. League president Peter Williams said he was a tireless campaigner for the principles and causes in which he believes.
We would like to hear from you. Who do you think is a worthy Business Leader of the Year for 2010? Email us at business@nzherald.co.nz