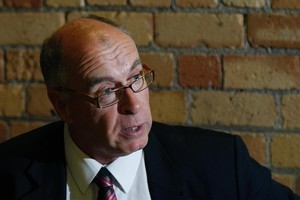 A veteran of the 1980s business scene, who went on to become a prolific start-up investor, has been recognised for his contribution to early-stage technology companies.
Ray Thomson, who received the inaugural William H. Payne Active Angel Award last week, ran Omnicorp with Lloyd Morrison in the 1980s and was involved with Strathmore Group until 1998.
The award is given to members of the Ice Angels network, an investment group linked to Auckland business incubator The Icehouse.
Thomson, 58, has been involved with the network since 2007, investing $400,000 in seven early-stage firms including biological research software developer Biomatters and Inro, which makes robotic forklift technology.
Angel investors are usually wealthy individuals, with entrepreneurial experience, who form groups and pool their money to fund start-up companies.
Andy Hamilton, chief executive of The IceHouse, said Ice Angels members chose Thomson to win the award because he was generous with his time and a valuable mentor to entrepreneurs.
Thomson said he was still waiting for a return on the capital he had invested in the start-ups, but did not expect one for five to 10 years.
New Zealand would never catch up with Australia, in GDP terms, unless people like him supported innovation, he said. But established technology firms also required assistance to increase their existing capabilities.
"In my view, the Government approach is to fund a lot of scientific development work, or new knowledge in the high-tech sector, whereas I think there should be more emphasis on capability development."
Business Herald columnist Brian Gaynor said he first met Thomson in 1979 when he gave him a job as an investment analyst for sharebroking firm R.A. Jarden & Co, which went through various name changes to become First NZ Capital in 2002.
"[Thomson] does his own thing and takes risks out there,"said Gaynor. "We need an awful lot more people like him in New Zealand."
Hamilton said Thomson "calls a spade a spade" but really cared about New Zealand's economic development.
Thomson is a director of firms including wellness company Manuka Health and listed energy-efficient motor maker Wellington Drive Technologies.
He is also on the board of Industrial Research, a Crown institute, and holds a PhD in physics from Otago University.
His 3.3 per cent stake in Wellington, a company he has been involved with since 1988, lost around half its value last week when the firm's share price plummeted following the announcement of plans for another round of capital raising.
Thomson was philosophical about the development, saying: "That's what happens when you invest in this sort of space - when companies aren't making profits they are vulnerable to shocks."
This year had been a dark one for Wellington, which has been listed since 2001, but the company was focused on improving margins and its outlook was positive, he said.
The Ice Angels award is named in honour of William (Bill) Payne, an American investor who spent time in New Zealand this year as the University of Auckland Business School's Entrepreneur in Residence.