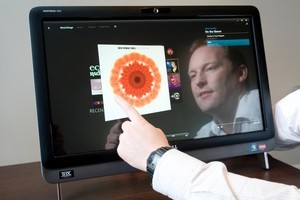 Computer giant Dell has tapped into the software smarts of Palmerston North's Unlimited Realities to liven its touchscreen devices line-up.
Unlimited Realities' cornerstone Fingertapps application provides the pinch, zoom, rotate and flick software technology to run photo, music, video and social networking applications for Dell and a soon-to-be-expanded range of touchscreen device manufacturers.
Analysts predict keyboard-free tablet sales to grow to 26 million in 2011.
"People have had their expectations set by Apple and now the market is responding," said Unlimited Realities marketing head Ben Wilde. "It's a great place to be."
The relationship with Dell has evolved from an existing partnership with touchscreen technology developer NextWindow and fronting up to see Dell's global vice-president of marketing, Kiwi expat Andy Lark.
The collaboration with NextWindow saw the company's touchscreen applications on show in 2006 at technology tradeshow CeBIT in Germany - ahead of the launch of the iPhone.
By 2008 Unlimited Realities was knocking on Dell's door using the New Zealand connection with Lark, who is also involved in the New Zealand Trade & Enterprise beachheads programme.
What followed was an introduction to Dell's chief technology officer and the start of the two-year journey to the point where Unlimited Realities software is installed on Dell's touchscreen devices.
The path was smoothed by the NextWindow link-up, with Dell already using its touchscreen technology.
"We've shown our ability to deliver what they need and solved problems. They work with trusted partners to put solutions together and we've shown we can be one of those people," said Wilde.
"There's a big difference between building websites and building something that has to go on a million machines and not generate a whole bunch of US$25 phone calls to a support centre."
Unlimited Realities was founded in the mid-90s by Brebner and his brother Russell as a computer services company.
Over time the company's revenues have come more from the software development side and less from building websites and bespoke software for other companies.
Two years ago the company had 10 per cent of revenue from overseas.
That has now inverted with the majority of money from customers outside of New Zealand and revenue has doubled.
The only way to keep ramping up that revenue growth is through licensing deals, said Wilde.
The bulk of the company's 30-odd staff are based in Palmerston North with a small office in Wellington.
Teaming up with Dell and other hardware manufacturers means the company can get scale without having to build a massive sales network, said Wilde.
twitter.com/HelenTwose