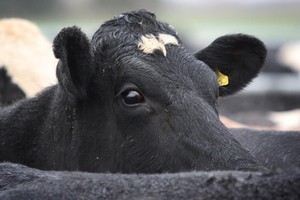 Farmers expecting a bumper harvest this season have received a "late kick in the guts" from a deluge of rain that has refused to stop.
Heavy hail and rain across much of southeast Australia have already devastated cherry crops and flooded paddocks, dangerously delaying wheat and grain harvests.
The downpour has prompted calls for the federal government to boost funding assistance amid suggestions the latest setback could also have farmers struggling to cope emotionally.
Agriculture Minister Joe Ludwig said on Friday he was keeping an eye on the situation, but he has yet to offer the industry any other assurances.
"For many crop farmers, excessive rain is leading to delays in harvesting and is affecting the quality of production," he told AAP in a statement.
"I have heard firsthand from the sector about the problems they are experiencing, and I am monitoring the situation closely."
Cherry growers in Young, which supplies 60 per cent of Australia's cherries, report damage to 80 per cent of their crop because of heavy rain.
The town has received more than 155mm over the past few days, while other parts of southern NSW have endured dumps of up to 200mm.
The downpour has forced back grain harvests - anticipated to be among the best in years - and has farmers worried about how quality will be affected.
The situation for farmers unable to bring in their crops has been "devastating", National Farmers Federation president Jock Laurie told ABC Television.
"They've put their heart and soul in there, and to turn around now and just watch it withering away in the paddock is so frustrating and just so emotionally tough."
Parliamentary Secretary Mike Kelly, who has seen the difficulties firsthand in his southeast NSW electorate, said it was "a bit of a late kick in the guts".
Nationals Senator Fiona Nash has urged the federal government to increase exceptional circumstances aid, while the NSW government has also been pressed to commit to full Natural Disaster Relief.
"We've finally had some rain, we're finally looking potentially at a harvest ... now they have been inundated with rain. It's just simply heartbreaking," she told ABC.
She's heard reports that some farmers, buoyed by early expectations, went into extra debt to buy new equipment, only to have their hopes dashed.
"I have grave concerns about the safety of these people, particularly as Christmas approaches," said Senator Nash.
She urged struggling farmers to contact Lifeline, community health workers or someone who they can talk through their troubles with.
- AAP