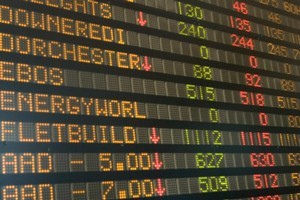 Trading in Pike River Coal shares was suspended and trading in the shares of its biggest shareholder New Zealand Oil & Gas (NZOG) was halted yesterday as the investment community extended their sympathies and also waited for news.
The mine project was developed by NZOG over two decades before Pike River Coal was floated in 2007.
News of the blast at the mine late on Friday afternoon that has left 29 miners unaccounted for pushed the price of Pike shares down to A61c on the Australian market on Friday before trading was halted. The shares closed in New Zealand on Friday at 88c and have fallen from a year high of $1.23 on October 12. Port of Lyttelton, which handles Pike's exports, fell 6c to $2.25 yesterday.
The benchmark NZX-50 index closed up 28.48 points, or 0.87 per cent, at 3296.63. There were 50 rises and 38 falls among the 118 stocks traded. Turnover was $77 million.
Asian markets rose in the wake of modest gains on Wall Street and news that Ireland had agreed to a bailout package from the EU and IMF
Fletcher Building rose 12c to $8.05, Telecom rose 5c to $2.18 and Contact Energy rose 2c to $5.97. SkyCity rose 6c to $3.17, Tourism Holdings rose 3c to 74c and Freightways rose 8c to $3.03.
The market had to absorb news that Standard & Poor's has put New Zealand on notice of a possible credit rating downgrade. The move knocked a cent off the NZ dollar, which was positive for export stocks.
James Lee, head of institutional equities at First NZ Capital, said it was a big week for investors with Fisher & Paykel healthcare and appliances reporting, annual meetings for The Warehouse and Kathmandu and briefings by Sky TV and Sanford in the diary.
Fisher & Paykel Healthcare rose 3c to $3.02. Xero was unchanged at $2.13. The Warehouse rose 5c to $3.82, Sky TV rose 8c to $5.33 and Goodman Fielder rose 4c to $1.85.
Guinness Peat Group fell 2c to 70c, NZ Farming Systems Uruguay fell 1c to 62c, TrustPower fell 4c to $7.45 and Air NZ fell 1c to $1.32. Sanford was unchanged at $4.70.
Charlie's rose 1.1c to 16c after signalling a possible maiden dividend next year as the company expands in Australia. Dorchester Pacific rose 1.5c to 12.5c, while Sealegs fell 2c to 18.
- NZPA