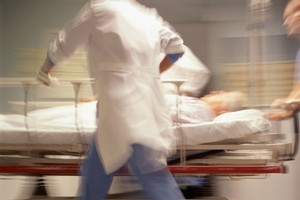 Ill health costs the economy at least $5 billion a year - with even bigger potential costs coming from those who drag themselves to work in spite of sickness.
Five Treasury reports published today show lower productivity from sick workers carrying on regardless costs between $700 million and $8.2 billion a year, possibly dwarfing the $4.7 billion price tag of measurable costs of public hospitals, reduced working hours and sick leave.
The reports look at physical and mental illnesses; they exclude the costs of accidents and pregnancy.
The author of the main report, Heather Holt, warns that it can't be used to draw "value-for-money conclusions" such as arguing for higher health spending, because it doesn't look at how Kiwis' health could be improved or what it would cost.
But the studies come as a Government-appointed welfare working group chaired by economist Paula Rebstock looks for ways to stop the growth in sickness and invalid benefits.
It may fill in the other half of the equation by estimating the costs of tackling beneficiaries' health problems sooner to get them back to work.
The Treasury studies are based on Statistics NZ's Survey of Family, Income and Employment ("Sofie"), which interviewed people from 11,500 households repeatedly between 2002 and this year. Only results from the first few interview "waves" are available so all costings are based on 2004-05 incomes.
The figures show that healthy people also tend to be wealthy. On average, suffering high physical discomfort cuts $13,600 from your accumulated wealth, mainly because you have to cut back on work. High psychological distress will set you back by $18,600.
But a surprise finding is that mental illness drives 18,400 working-aged people out of the workforce compared with only 5300 who drop out because of heart disease or 4400 for diabetes.
Ms Holt says her $5 billion-plus figure for the total costs of ill health is an under-estimate because it includes only costs that can be measured through Sofie. This excludes welfare costs, the costs of ill health for people outside the paid workforce, the lost output of carers and the costs of death.
Also, sick days are costed at $200 million based on how many people attended public hospital appointments or took at least a week off work, but Southern Cross research puts total sick days almost four times higher.
The Sofie figures suggest that sick people dropping out of the workforce altogether cost $1.8 billion a year and people cutting back on working hours cost $1.4 billion. But the studies found that almost half the adult population suffered reduced productivity through physical or mental illness in 2004-05.
Ms Holt estimated the effects for productivity reductions of between 15 per cent and 50 per cent. The mid-point of her range was $4.1 billion, or 2.7 per cent of the national income.
Counting the cost
* $1.3 billion public hospital costs
* $1.8 billion dropped out of workforce
* $1.4 billion reduced working hours
* $0.2 billion sick leave
* $0.7-$8.2 billion lower productivity at work