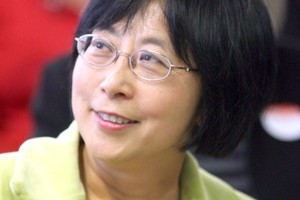 Pansy Wong is set to stand down as a Cabinet minister over the use of the parliamentary travel perk for her husband, Sammy.
The perk - giving heavily discounted air fares - is to be used only for private travel and is not to be used for business trips.
Her husband is thought to have undertaken business on some of his trips.
Prime Minister John Key is understood to be making a statement about Mrs Wong soon from Japan, where he is attending the Apec summit.
It is not clear yet whether she will resign or stand down temporarily while more inquiries are made.
The issue of the couple's travel came to light this week when Labour's Pete Hodgson accused Mrs Wong of breaching the Cabinet manual in the way she signed herself when witnessing a deal of her husband's during a trip to China.
She described herself as a "Minister of the NZ Government" in the blank space where it asked her to state her occupation, and she gave her address as Parliament.
Mr Hodgson said she should have stated MP.
"The rules are clear. Any taxpayer subsidy on business trips will have to be refunded by Pansy Wong," Mr Hodgson said.
The Prime Minister's office is investigating whether Mrs Wong used the travel perk inappropriately.
Mrs Wong holds the portfolios for Ethnic Affairs and Women's Affairs.
- with NZ Herald staff