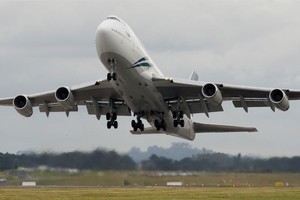 Air New Zealand has escaped censure from the European Commission after the body imposed fines totaling 800 million euros on 11 airlines for operating as a cartel.
The EC "has dropped the case against a number of airlines, including Air New Zealand, arising from alleged anti competitive conduct in the air cargo business," the Auckland-based carrier said in a statement to the NZX today.
"This brings closure to one more part of the ongoing investigations and proceedings which commenced in February 2006" it said.
Rival Qantas Airways was fined 8.9 million euros for its part in the price-fixing activity. The 11 airlines were fined for cargo activities related to the European Economic Area.
Air France-KLM received the biggest fine, at 310 million euros and British Airways was fine 104 million euros.
Other airlines fined included Air Canada, Martinair, Cargolux, Cathay Pacific, Japan Airlines, LAN Chile, SAS and Singapore Airlines.
Shares of Qantas rose 1.1 per cent to $2.78 on the ASX. Air NZ fell 0.7 per cent to $1.36 on the NZX.