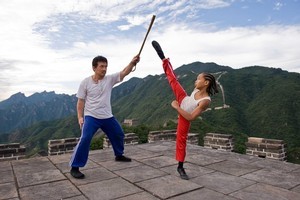 Han Sanping is a big fan of actor Will Smith. After entertaining Smith in Beijing two years ago, the chairman of China Film found a different way to keep up with Smith's film-making efforts.
State-run China Film contributed US$5 million ($6.7m) to help finance a remake of The Karate Kid, produced by Smith and starring his son, Jaden.
Han's mogul turn was a hit. The film, distributed by Sony's Columbia Pictures, grossed more than US$356 million worldwide and was a hit in China. For Hollywood, always a dream factory powered by other people's money, China offers huge potential as a funding source and a market.
On September 26, Orange Sky Golden Harvest Entertainment, a Hong Kong-based film company, paid US$25 million for a 3.3 per cent stake in Legendary Pictures, maker of The Dark Knight.
Hollywood executives are even taking meetings with Chinese toy companies eager to take their creations to the big screen.
"It's a largely untapped market," said Clark Hallren, managing partner at Los Angeles-based financial advisory firm Clear Scope Partners. "There appears to be great promise and a tremendous amount of capital. Where those in search of capital once focused on the Middle East, the same dynamic is occurring with China."
The deal-making to date has been more a trickle than a waterfall.
Chinese investors weighed bids for Miramax and debt-plagued MGM when those studios went up for sale in the past year, without biting, said attorney Schuyler Moore, a partner at Stroock & Stroock & Lavan in Los Angeles.
Their activity may pick up, as Chinese officials become more comfortable with the ways of Hollywood.
"Chinese investors are very sophisticated and have been contemplating the kinds of investments they want to make," said Charles Paul, a longtime Hollywood executive and a senior adviser to investment bank Centerview Partners.
Paul negotiated the 1986 agreement with the Chinese government that opened the country to limited imports of foreign-made films. He travels to China every six weeks to meet potential investors.
The Chinese government hopes to gain the technical and creative know-how to build its film industry.
In the next three to four years, the number of screens in China will increase to about 13,000 from 8000 today, according to John Wilmers, chief executive officer of Ballantyne Strong, makers of digital movie equipment.
The US has about 39,000 screens. China is the largest non-US market for Imax's big-screen theatres, with 37 built and an additional 59 scheduled by 2013. In 10 years, China may be the largest exhibition market in the world, said Richard Gelfond, CEO of Mississauga, Ontario-based Imax.
"They want to be market leaders in producing films," said Doug Belgrad, president of Columbia Pictures, which made The Karate Kid mostly in Beijing.
The Chinese are using their financial relationships to get teaching moments whenever they can. The Columbia crew, for instance, showed the local team how to more quickly upload film from daily shoots to be viewed online, Belgrad said.
That level of involvement sets Chinese investors apart from others who have come to Hollywood offering cash, said Clear Scope's Hallren.
"I don't think this will be the next case of intelligent people investing money in unintelligent ways," Hallren said.
What China possesses already is plenty of capital for the right project. Sheng Boyu, a 30-year-old real estate developer, put up US$50 million to help finance Double Lives, a film about a modern-day treasure hunt, starring Pierce Brosnan, being filmed in China, according to reports.
"There is money if you know how to navigate the landscape," said Dan Mintz, CEO of Beijing-based Dynamic Marketing Group, which distributes and markets American- and Chinese-made films in China. Mintz said he raised US$100 million in China, "and we could go higher" to invest in films made or distributed there.
The obstacle, he said, is that the government favours Chinese-made movies and continues to impose a limit of 20 foreign films a year that can be shown in the country.
With Chinese investors. some films can reach the market without counting as part of the 20-slot quota.
And there may be other benefits: When Mintz released The Founding of a Republic, a film his company financed with China Film Group, he said the government ordered rival films out of many mainland theaters.
China's potential has sent deal-makers descending on Beijing. Deutsche Bank AG has stepped up its efforts in China to focus more on entertainment deals as well.
Still, investing in Hollywood hasn't always turned out well for those writing the checks.
"Some will benefit from smart and knowledgeable advisers," said Amir Malin, founder of private equity firm Qualia Capital and former CEO of film studio Artisan Entertainment.
"Others will be taken on an endless merry-go- round of premieres and empty financial returns."
- BLOOMBERG