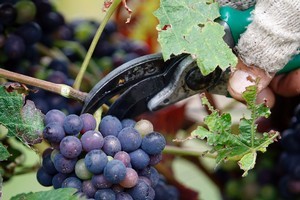 Almost 1600 wines have been entered in this year's Air New Zealand Wine Awards, with close to 40 per cent classed as sustainable.
New Zealand Winegrowers' global marketing director Chris Yorke said he was delighted with the number of entries, given the challenging economic climate and the fact new sustainability criteria had been introduced.
Under the new rules, all wines entered from the 2010 vintage onwards must be recognised as having been 100 per cent sustainably produced.
"Sustainability has been a focus of the Air New Zealand Wine Awards and the wine industry for many years," said Yorke.
"Sustainable entries totalled 39 per cent of this year's entries and it's very encouraging to see that wineries in New Zealand are responding so positively to the challenge of sustainable wine production and the enhanced entry criteria."
Sustainable wines are classified as those which are produced using grapes that have been accredited or certified through an independently audited sustainability programme.
The winemaking and packaging facilities used in the production of the wine are required to have been accredited or certified in the same way.
Wines in 17 different classes have been entered in this year's awards.
White wine varietals make up the majority of entries, though pinot noir is the most popular class, with 310 entries.
Wines from Marlborough account for more than a third of entries, though Hawkes Bay and Otago also have strong showings.
The awards, organised and owned by New Zealand Winegrowers, is the country's most prestigious wine competition.
This year's judges include The Wines of California author Stephen Brook, president of Sommeliers Australia Ben Edwards and Master of Wine (MW) Steve Smith.
Judging will take place from November 1 - 3, with the elite award-winning wines being announced at a gala dinner on November 20.
* For more information see airnzwineawards.co.nz.
- NZ HERALD STAFF