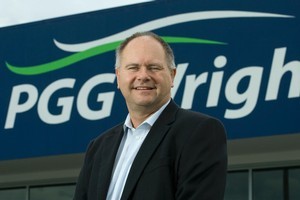 PGG Wrightson managing director Tim Miles has stepped down after two-and-a-half years in charge of the rural services group, effective immediately. The shares sank 5.1 per cent to 56 cents.
Chairman John Anderson said the company's new business model and direction meant the MD's role would change, and Miles agreed that it was "an appropriate time for a change."
The company will undergo a process to find a replacement, and senior management will work closely with Anderson and the board in the interim. Miles's departure means the Wrightson leadership team has undergone a rapid facelift leaving just one senior executive, who's based in South America, left over from Craig Norgate's tenure as chairman.
Heavyweight director Anderson was brought into the fold last year after the company was forced to raise $250 million to slash debt by installing Chinese seed and agricultural research company Agria as a cornerstone shareholder.
Last week, the company had its ties with NZ Farming Systems Uruguay severed after new major shareholder Olam International pushed to lift the buy-out of Wrightson's management contract with the South American farm manager and remove a five-year preferred supplier agreement.