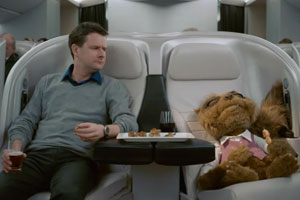 A potty-mouthed puppet called Rico is the controversial new face of the country's national carrier, Air New Zealand.
Apparently buoyed by the success of its television advertisements featuring naked, body-painted pilots, cabin crew and luggage handlers, the airline launched Rico into the internet viral market last week.
His lewd comments have already gained him thousands of fans on Facebook and YouTube - but have also provoked complaints of "smut".
Rico, a small, fanged animal with a faux South American accent, appears in the ads as a tourist who chats to the people next to him in premium economy spaceseats on his 777-300 flights.
In one ad, Rico talks about his time in New Zealand, saying: "I love her bush - it's amazing" and "I spent my time beating off the track in many place".
Reclining in his seat, he says: "All we need now is a nice Kiwi beetch ... You know, like lying around on a nice, sandy beetch. I can feel her wind, she is blowing you."
The second ad, called The Intimate Art of Touch, sees Rico bust out one-liners like, "you can lick the crack", and "the screen is like a woman, and you must be gentle with her. Put your finger here and touch her lightly ... touch her just like this. I go back to touching mine now."
Rico has been created by Jim Henson's Creature Shop - the Emmy Award-winning American company behind the Muppets and Sesame Street.
Air NZ spokesman Mark Street said there were more advertisements yet to be released. "They are intended for online only because of the risque content, and not intended for a TV audience," said Street. "There is ... good and bad feedback, as you'd expect."
Rico's official Facebook page follows the furry critter as he travels the world - thus far Auckland, Sydney and Melbourne. But some viewers have expressed their disappointment.
One told the airline its marketing was "disappointing" and "shameful".
Another viewer said the ads weren't witty or cutting edge - they were just "weakly smutty".
Unabashed, Street said Rico had received much international attention and was flying to Los Angeles in a week to take part in some interviews there.
Earlier this year, the airline was slammed by Rape Prevention Education for its cougar campaign, which showed an older woman hungry for "meat" and being sexually aggressive towards younger males.
What's your view? Email us at letters@hos.co.nz