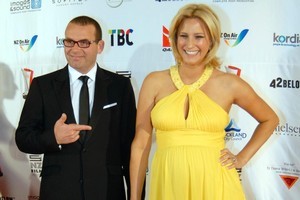 Paul Henry's hurried exit from Breakfast has opened the door for more upheavals at TVNZ.
Offbeat US correspondent Tim Wilson is great mates with TVNZ news boss Anthony Flannery and has filled in for Henry - with mixed results.
He might retain an oddball edge to the show.
But nice guy newsmen Mark Sainsbury and late night presenter Greg Boyed will be attractive options.
Its not just Henry's role at stake.
Co-host Pippa Wetzell is going on maternity leave. So TVNZ is looking for a dream team to build Breakfast next year.
Moving Sainsbury from Close Up to to Breakfast would solve two problems. Likeable and with a down home everyman appeal, he could work well.
And news bosses have also noted lacklustre interviews on Close Up that lack oomph - and wished for a replacement. Close Up fill-ins Henry and Mike Hosking have been mentioned in dispatches.
Sainso is said to have been astonished by the openly sceptical approach shown by his news bosses.
At one point he went over their heads, winning the support of chief executive Rick Ellis.
But even Ellis might be thinking that the current flux is a good time for a change.
TVNZ will have contractual obligations to Sainsbury. And how keen would Sainsbury be to move from the heart of prime time to the troubled Breakfast show.
Sainsbury is something a nightfly and is unlikely to relish 4 am starts.
Boyed is an intelligent and witty broadcaster with an easy turn of phrase. He has the integrity that Henry lacked - but like most potential replacements would be gentle.
There would be added appeal if Pippa Wetzell's old role went to weather presenter Renee Wright who has an exceptionally good rapport with Boyed on the late news.
Other names mentioned include Tamati Coffey a warm and talented weatherman, but who lacks news sense.
Former TV3 Sunrise host Oliver Driver is popular with some younger viewers but his left of centre politics would be a big change for Henry's old viewers.
Sean Plunket: Recently hired by Newstalk in Wellington, he might be tempted by more TV profile. But early starts were one of the reasons why he left Morning Report. He would also baulk at the product placement and advertorial on Breakfast.
Alison Mau is an accomplished broadcaster who could hold up either Henry or Pippa's role, but would likely be unwilling to put up with the early starts.