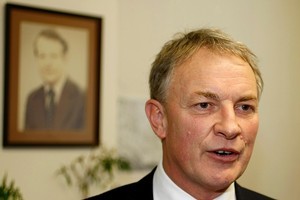 It's a funny thing how a spell in political opposition has emboldened that most fervent of free-trade disciples, Phil Goff, to say out loud the sentiments he publicly ducked when chasing free-trade deals with China and India.
Goff has spent much of the past week playing political football with two of New Zealand's major trading relationships.
He quickly conflated the "Government's poor handling" of former TVNZ Breakfast presenter Paul Henry's puerile slurs against Sheila Dikshit as a potential risk to New Zealand's free-trade negotiations with India.
And followed that serve by whacking Prime Minister John Key for failing to immediately congratulate the imprisoned Chinese human rights activist Liu Xiaobo on winning the Nobel Peace Prize.
"He's a man that stood up for democracy and human rights," Goff said of Liu.
"China has made a lot of progress in many areas. That's an area we'd like to see them make more progress. I'm a little disappointed the Prime Minister has ducked for cover and not made a comment on it."
There was more besides.
"New Zealand could not afford to worry about offending China on such an issue.
"We might be a little country but we've always stood up for our values and we've never been bullied by anybody or any country and I hope New Zealand stays that way."
It's tempting to reflect what Goff's position would be if he still held the portfolios of Trade and Foreign Affairs that he had during Helen Clark's Labour Government.
Back then the reality was that New Zealand could afford to worry about offending China on human rights issues - and did.
We should take Goff at his word that he did make a big deal out of chastising Chinese Politburo members and ministers over China's human rights record when he privately met them for talks on the China FTA several years ago.
But it is notable that the detail of those discussions did not carry over to the public domain.
Without any such public reinforcement such criticism is largely ritualistic. Goff knows it.
The Labour leader's own experience would have told him why Key paused before adding his name to the international political luminaries who have applauded Liu on receiving his award.
I can't imagine he would have advised Clark to advocate for Liu's release from imprisonment in similar circumstances.
And when it comes to bullying, the Clark Government showed itself to be a soft touch when it bowed to a Chinese official's request and banned press gallery reporter Nick Wang from attending a Beehive press conference for a visiting Chinese leader.
Goff was noticeably silent then.
It is painfully obvious that Henry proved himself an "arse" over Dikshit.
But the mature political response would have been for Goff to make the critical distinction that Henry's views certainly did not represent "official comment": He was simply a TV presenter. Notions that an FTA would be jeopardised by Henry's fatuous antics were rather far-fetched.
Yes, Henry was obnoxious. The remarks were culturally insensitive and insulting. But it would be wrong for India to elevate Henry's actions into a diplomatic incident.
Freedom of speech is a value that New Zealand holds deeply - but the abuse is regrettable. And so forth.
New Zealand's High Commissioner was duly carpeted. But frankly, Goff would have done himself a favour if he had also called on our Ministry of Foreign Affairs and Trade to summon the Indian High Commissioner to protest the treatment of Kiwi Commonwealth Games boss Michael Hooper in a diplomatic tit for tat.
Activists from the Rashtrawadi Sena, a hardline Hindu group, had burned an effigy of Hooper outside the CGF office and held signs saying "Racist Hooper Go Back", "Shame On Michael Hooper" and "Hooper insulted our nation: Hooper go back".
But bringing the Indian Government to its senses was not part of Goff's gameplan.
For a sounder response look to the well-thought out opinion piece by Asia New Zealand Foundation chairman Philip Burdon.
Burdon said that without delving into the significant changes in demographics that have occurred over the past 30 years, it is enough to say that immigration and emigration have altered New Zealand's ethnic landscape in obvious ways.
"That change brought on by travel, globalisation and transnationalism is both irreversible and inevitable, even in a country as remote as ours."
Burdon noted that when the foundation produced its 2006 report "Preparing for a Future with Asia", one of the main findings was that despite the Asian population approaching the 10 per cent threshold, there appeared to be an evident reluctance to recognise Asians as New Zealanders.
"In general, New Zealand's identity is seen as comprising European and Maori/Pacific influences. Despite our substantial Asian population and our location within the Asia Pacific region, most New Zealanders do not recognise an Asian component in our national identity. Minority cultures other than those of Maori and Pacific nations are seen as separate from the mainstream," the report stated.
Burdon makes the point that Henry's comments and the resultant fallout demonstrate that a watershed moment in the national discourse on what it means to be a New Zealander has arrived.
Embracing a multiculturalist New Zealand will prove to be a challenge if we subsume our values to bigger trading nations like India and China.
There is much in New Zealand's heritage that is worth valuing - particularly the right to free speech.