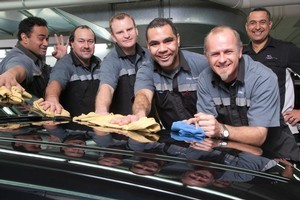 Tim Helg has five deaf men among his 15-strong team of car groomers at Giltrap Prestige Motors in Grey Lynn - and he says they are "fantastic" employees.
"They're my best workers," he says, "and they make me laugh every day - they've got a great sense of humour."
Helg's deaf employees are aged between 26 and 50-something. All use New Zealand Sign Language (NZSL) and can lip-read; one has some hearing with a hearing aid and can help his workmates if necessary.
Helg thinks more businesses should give deaf people a chance to work - and he has answers for the naysayers who say that deafness poses a health and safety risk.
"Safety for us is really important, with cars everywhere," he says.
"But our deaf workers are really safety-conscious and keep an eye out all the time. And if the fire alarm goes off, two people have the job of flashing the lights in the grooming bay and checking each car to see no one is in it.
Everybody in the team looks out for each other."
Helg was speaking at a recent morning tea, run by Deaf Aotearoa New Zealand (Danz), which brought employers together to talk about the roles their deaf employees fulfil and to encourage employers to look at ability, rather than disability.
Danz, a national not-for-profit organisation based in Avondale, Auckland, promotes the interests of the deaf community and NZSL.
The morning tea was an opportunity to raise burning questions - including "the forklift question", which Danz employment consultant Patti Poa often encounters.
Deaf people are no more at risk around forklifts and trucks than those who hear, she says, because they are used to keeping a close eye on their surroundings and have excellent peripheral vision.
"And anyway," she asks, to laughter, "don't forklift drivers need to watch where they're going?"
Danz chief executive Robyn Noble, who is deaf, told of a shellfish processing factory in the South Island that ensured its deaf workers' safety by having them wear different-coloured hair coverings so workmates could identify them and alert them in an emergency.
High-end album maker Queensberry, which has three deaf staff, has devised a practical way to ensure that anyone behind a locked loo door is alerted in an emergency, says HR generalist Shannon Sampson: a staff member has the job of grabbing the Velcro-backed "fire" sign off the wall next to the toilet and sliding it under the door.
Danz employment consultant Gemma Claire, a qualified NZSL interpreter, says deaf people often have their own habits to ensure they stay safe and potential employers should just ask what those are.
"Health and safety is not a barrier to a deaf person succeeding at work," she says.
"There are genuine concerns, but sometimes people put up barriers that are not realistic."
Equal Employment Opportunities Trust chief executive Philippa Reed says the added diversity brought by deaf employees is a good thing: "It makes colleagues aware that people have different needs and different ways of doing things."
Claire and Poa say workforces should reflect the diversity of their customers, some of whom will be deaf.
Claire says that employers generally rate deaf staff highly on concentration and focus, diligence, health and safety awareness, and loyalty and productivity.
She says employers shouldn't fear the odd communication slip-ups between the hearing and non-hearing world.
"Deaf people have had a lifetime of experiences with communication breakdown with hearing people," she says.
"They are quite able to handle it in a nice way. There's no need to feel embarrassed."
Queensberry's Sampson says that the photographic album company's three deaf (and long-serving) staff all lip-read and, if necessary, notes are written.
"It's not a problem. We always encourage them to let us know if there are any challenges, such as someone speaking too fast."
Taking on deaf staff doesn't mean extra cost, either. Work and Income New Zealand provides subsidies to companies which take on staff with a disability, which funds things such as free NZSL interpreters.
"We encourage our deaf staff to choose when they feel an interpreter will be needed and empower them to organise that for themselves," says Sampson.
Government funding may be available to provide adaptive devices a disabled person might need to do their job, says Jacinta Penn, an employment consultant at Workbridge, which assists people with disabilities into work.
Workbridge facilitates applications for workplace modification grants, which might pay for things such as a switch linked to alarms that makes office lights flash, or a proximity sensor on a forklift.
Claire says that many deaf people see themselves as belonging to a distinct culture, not a disabled group.
For most deaf New Zealanders, NZSL is their native language; English may be their second language or even their third, if they come from countries with different native and sign languages, such as Fiji.
Many of those who have grown up deaf capitalise the word "Deaf" to denote their culture and community.
"Deaf people have their own culture, with their own language and their own traditions," Claire says. "And the deaf community is diverse, like any community ... They share the same language and the experience of being deaf."
Lollipops Educare Lynnmall centre manager Shelley Lord says that centre cook Lee-Ann Rose, who is deaf, "is adding another culture to our multi-cultural centre".
At the meeting, Lord was not the only employer who quite naturally added the odd piece of sign language to their normal gestural repertoire: a fluttering of the fingers near the heart for the word nervous, or a waggling of hands in the air for applause, learned from Rose.
"Sign language for us is like an exclamation mark, an extension of speech," says Lord.
"Leanne has embraced our culture and we have been able to embrace hers."
If you want to know more, contact:
Gemma Claire, Deaf Aotearoa: gemma.claire@deaf.org.nz;
Jacinta Penn, Workbridge: jacintap@workbridge.co.nz
HEARING IMPAIRED COLLEAGUES A SIGN OF THE TIMES
* Make sure you have their attention and, if necessary, tap them on the shoulder.
* Make sure your face can be seen clearly - don't cover your mouth with your hand.
* Speak in a natural voice - there's no need to shout or exaggerate your speech patterns, as lip distortion makes it harder to lip-read. Contrary to popular belief, lip-reading is about 70 per cent guesswork, as many words look the same on the lips.
* Make use of body language, gestures and facial expressions.
* Make sure that you are understood - state the topic at the start of a conversation and ask the colleague to repeat what you have said to ensure they have understood. If not, try rephrasing or repeating.
* Don't be embarrassed about using a pen and paper.
* If you have to interrupt a conversation because someone is at the door or the phone is ringing, let the deaf colleague know.
When listening to a deaf colleague:
* Maintain eye contact.
* Listen carefully - if you don't understand, ask for the information to be repeated.
* Don't be embarrassed if you have difficulty getting your message across or understanding someone - things will become easier as you become more familiar with each other.
And bear in mind that ...
* A deaf co-worker handling equipment noisily is not angry or annoyed. They are just unaware that they are making a noise.
* A person who lets a door swing shut in front of you is probably not ignoring you - they probably had no idea you were behind them.
* A deaf employee who frowns when listening to instructions is probably not displaying disagreement or annoyance - deaf people often frown when "watching", as lip-reading takes a great deal of skill and concentration.Source: Deafintely working for you: An employers guide to hiring deaf staff. Deaf Aotearoa New Zealand.
ON THE WEB