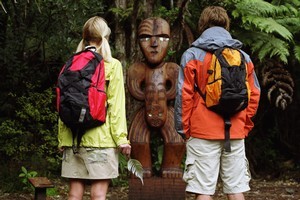 New Zealand's hotels reported a 7 per cent increase in overnight guest stays in August, propped up by more overseas visitors amid a slide in domestic guest nights.
International guest nights rose 2 per cent in August compared to the same month in 2009, but were down 5.5 per cent month on month, according to Statistics New Zealand's monthly accommodation survey.
Domestic guest nights fell 1 per cent over the same period, which resulted in flat overall growth with total guest nights in August down less than 0.1 per cent a year earlier.
"Following a period of increases from January 2009, the trend in total guest nights has been decreasing since September 2009," said the department. "The trend level is now 1 per cent lower than in September 2009 and 2 per cent lower than the series peak in December 2007."
Nine of New Zealand's 12 regions recorded decreases in guest stays, led by the Taranaki/Manawatu-Wanganui region with a decline of 12 per cent or 17,000 nights, followed by Waikato with a decline of 9 per cent or 13,000, and Wellington down 7 per cent or 13,000.
Auckland visitor nights rose by 11,000, or 11 per cent, after a sharp fall in August 2009. The gains take city's guest nights back above those in the same month in 2008. Bay of Plenty guest nights rose 10,000, or 6 per cent, and Otago rose 8,000, or 2 per cent, largely driven by international visitors.
Hotels were the only category to record any growth in the month, and also had the largest share of total guest nights at 42 per cent.
That's the highest share of total guest nights for the category since the survey began in 1996.
Holiday parks fell by 6.3 per cent, or 14,000 guest nights, motels and motor inns fell by 5 per cent, or 36,000, and backpackers and hostels fell by 2.8 per cent, or 8,000.