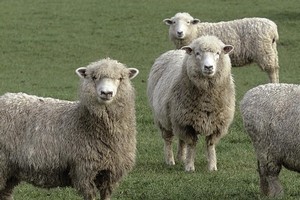 Prices for export commodities rebounded last month, reversing three months of declines.
The 2.9 per cent rise took the ANZ commodity price index back to within 1 per cent of its all-time high in May.
In New Zealand dollar terms the rise was a more modest 1.2 per cent as the exchange rate strengthened against most trading partners, Australia the notable exception.
But even in New Zealand dollar terms, export commodity prices have only been higher between April and July this year.
The rise was broad-based as commodities recording higher prices outnumbered those declining by three to one.
Dairy products, which make up 38 per cent of the trade-weighted index, rose 4.6 per cent, driven by a 6 per cent rise in milk powder prices.
The highest jump was in wool prices, up 12 per cent to a 14-year high.
Renewed demand from Middle Eastern and European markets had coincided with a run-down in wool inventories globally, ANZ economist Steve Edwards said.
Seafood, butter and skins rose 4 per cent last month; beef, lamb and aluminium 3 per cent and cheese and casein 2 per cent.
The largest decrease was an 11 per cent drop in apple prices as the Northern Hemisphere export season wound down.