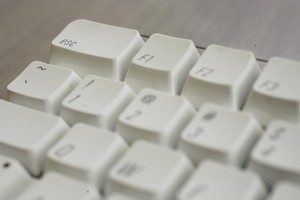 Arrgh. My keyboard has died, I bleated on Facebook a few weeks ago. Immediately I hit pricespy.co.nz to find the cheapest replacement and started drooling at the sleek lines of the Microsoft Natural Ergonomic Keyboard 4000 - the latest version of my "dead" one.
In my mind I'd almost made the purchase when my Bargain Betty alter ego kicked in. A cursory inspection of my old keyboard indicated one of the gaggle of 7-year-old boys who hijack my home office to play Mathletics had dropped something sticky between the keys. Nothing more than a nail file was needed to "fix" the 10-year-old keyboard.
From a consumer behaviour point of view, what I was doing was seeking to reward myself by buying a new item when I didn't need it, consumer behaviour expert Robert Aitken of the University of Otago told me.
"It is all to do with people's self-image," he says. "It might be an opportunity to step up a little. You have progressed quite nicely and you deserve this."
Fortunately I'm not egotistical enough to think I deserved this new keyboard. I just coveted it.
We're getting out of the habit of letting things wear out, although we're better than our cousins in Australia, the UK and the United States. I certainly don't darn socks any more. But taking this approach with more expensive purchases starts to burn a hole in a person's long-term savings.
"Repair, not replace" is my mantra when it comes to breakdowns. It seems appliance repairs have dropped out of our collective psyche, in part because it's almost too expensive to call a tradesman.
Yet even for a DIY-phobe such as me, it's not that hard to do many repairs. Sometimes simply opening up and investigating the item draws your attention to the cause of a problem. If not, I have repair strategies.
Strategy 1: When it came to repairing my out-of-guarantee washing machine, I tottered off to the library, borrowed a copy of the Haynes Washing Machine Manual and repaired my own machine by following simple instructions.
Strategy 2: In the era of the internet, repair manuals aren't necessary. If you need to repair anything, from your iPhone to your bicycle, there are how-to videos on YouTube or step-by-step instructions on websites.
Strategy 3: When my InSinkErator broke down, I phoned the company's help-line. Superwoman on the other end of the phone talked me through the problem. She even sent me the replacement part free. I love that company.
Strategy 4: If all else fails I make a beeline to the nearest Asian-run repair shop. They can repair almost anything and charge a pittance. Case-in-point was my CD player that stopped working. I popped it into one such store in Dominion Rd.
The outcome was a $20 repair bill and a stereo that is still doing its job three years later. That's a bargain, if you ask me.