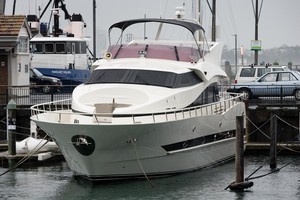 The name should really have been a warning to investors way back when Rod Petricevic bought the boat in 2002, allegedly diverting $1.65 million of Bridgecorp investors' money to so.
Named in honour of one of the most notoriously venal and corrupt banking groups of all time, the motor yacht Medici was the perfect status toy for Petricevic.
(Even more ominously, Petricevic owned the Medici via a company called Poseidon - have you ever seen that movie?)
According to the recent High Court ruling knocking back the appeal of former Bridgecorp director Bruce Davidson against his ban, Petricevic's lust for the Medici pushed him over the ethical edge.
In his ruling, High Court Judge Miller, details how the Bridgecorp board correctly denied Petricevic's request for the company to either buy the boat outright or finance it. However, Petricevic sneakily used Bridgecorp money to do it anyway, setting a precedent that Miller says the board should have done more to stamp on.
"It is not the misconduct but the Board's failure to respond to it that evidences bad governance," Miller says in the Davidson ruling. "The predictable sequel was that the Medici financing was merely the first of many occasions on which Mr Petricevic took money without authority and without the Board being told about it."
I don't know where the Medici is now. It is no longer registered with the Royal New Zealand Yacht Squadron or in the hands of Bridgecorp receivers PricewaterhouseCoopers.
But it seems someone got a bargain.
In the 'Receivers' seventh report on the [sad] state of affairs of Bridgecorp' we discover the PricewaterhouseCoopers team of John McCloy and Maurice Noone realised only $250,000 from the sale of the Medici.
But McCloy and Noone are busy selling lots of other depreciated assets to worry too much about the Medici. PricewaterhouseCoopers has about 10 finance companies on its receivership to-do list while rival firm KordaMentha has seven or so.