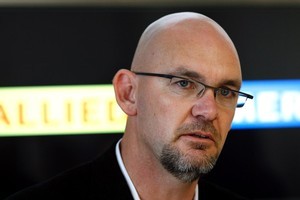 Allied Farmers faces suspension from the stock exchange if it doesn't file audited accounts by the end of this month.
But the company says it's on track to meet the deadline.
Allied, which in December bought the loans of Mark Hotchin and Eric Watson's Hanover and United Finance in a deal valued at $396.2 million, posted late year-to-June 30 accounts on Friday, showing a loss of $77.6 million.
But it has yet to receive sign-off from its auditors PricewaterhouseCoopers and is racing against a deadline of September 30.
A spokeswoman for the NZX said it did not comment on specific companies but under listing rules every firm was required to file audited accounts no later than three months after the end of its financial year.
"If the issuer has not complied within five days of the relevant due date, the issuers securities will be suspended until such time as the issuer has complied," she said.
Companies suspended from the stock exchange are then referred to the New Zealand Markets Disciplinary Tribunal.
Allied Farmers managing director Rob Alloway said through a spokesperson that it was on track to meet the audit deadline.
On Friday Allied said its audit was incomplete because PwC was still assessing the impact of the collapse of its finance subsidiary Allied Nationwide and its adoption of of a "going concern" principle.
Allied Nationwide was placed into receivership on August 20, 10 days before its financial reporting deadline on August 30.
The NZX then gave it a 10-day extension.
Allied said its results had been prepared on a "going concern" basis on the assumption that funding initiatives being arranged by the company were completed in the near term.
The company had not returned calls requesting information on what funding initiatives it is working on.
But it is understood the company is in negotiations with a new funder to replace its banker Westpac.
PwC partner Chris Barber said it had not released its report yet so it was not in a position to comment on the unaudited preliminary accounts, as the company did not comment on client specific matters.
Shares in Allied Farmers closed up 0.2c at 3c yesterday.