Click here to see offers of support from business.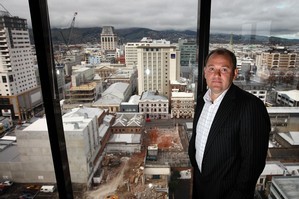 Christchurch businesses are activating emergency relocation plans and moving into hotels in the wake of the earthquake.
Workers at law firm Chapman Tripp have been working out of a parallel office at the All Seasons Hotel since Monday.
Chief executive Alastair Carruthers said his business had a sound crisis plan and started evacuating its CBD office on Saturday afternoon.
"You need a place where people can gather, talk to clients and get work done. It's not business as usual but it's functioning."
Serviced and virtual office provider Servcorp said businesses were becoming increasingly aware of the importance of having emergency plans in place as whole offices were closed following the quake.
The company is offering businesses serviced office space in Auckland for those staff who are uneasy about working in Christchurch, as well as a complimentary phone line with a messaging service where calls can be directed and answered for those who are not able to man their office.
Servcorp PR and marketing manager Chloe Boerema said the earthquake had sparked calls from businesses, many of them not directly affected by the quake, but who were reviewing their emergency plans and wanting to know what services were available to them.
A Christchurch business consultancy specialist, who has worked in emergency relief zones overseas, says there are some simple strategies businesses can adopt to get them back on track.
Profuzion Consulting director Hoani's Hipango says it is imperative that businesses co-ordinate, communicate and connect with their people to provide certainty and direction and access key websites such as Civil Defence and the Canterbury Employers Chamber of Commerce.
"The information on these sites is important and needs to be understood by business and staff," he says.
Bruce Garrett, general manager from The George hotel, said local businesses using his hotel to temporarily relocate had helped to offset cancellation losses from the quake.
One Christchurch business had booked a conference room and suite for 10 days in order to continue functioning outside their office.
Glen Stapley, managing director of DUNS Limited, said he would temporarily relocate his business on Monday if the building was still closed.
The accountancy firm is on the 16th floor of the Price Waterhouse Coopers building on Armagh Street, in Christchurch's CBD.
He said for the entire week he has only had "skeleton staff" running the office.
"There is a hell of a lot of fear in Christchurch at the moment, it would mean we could go to a new place that is not high-rise and take the fear factor out of our team," he said.
The messiness of the relocation process was worse than the cost, Stapley said.
"Each team member will, in their own time, pick up their computer and main files and out they go."
He said a lot of businesses in the CBD had already relocated and it was a balancing act whether to follow suit or wait for the aftershocks to stop.
Every time an aftershock hits the city the building is evacuated and staff are forced to wait on the street as engineers reassess it again for safety.
He said the disruptions were crippling for business.
Carruthers said communication in times of crisis was essential to businesses.
"There is a real sense that as we learn about the unfolding nature of the emergency it may not be a return to business as usual for a long time."
He advised all businesses in New Zealand to set up a crisis plan because, "at any time something like this could happen".