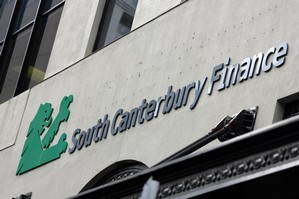 The Government yesterday paid $1.775 billion - or $405 for every man woman and child in New Zealand - to take control of failed moneylender South Canterbury Finance's assets.
It has bought out all its investors and debenture holders.
South Island tycoon Allan Hubbard's $2 billion Timaru-based company was yesterday placed into receivership and the Government quickly stepped in to immediately pay $1.6 billion to cover debenture holders' deposits covered by its retail deposit guarantee scheme.
It also loaned a further $175 million to the receivers to repay other investors, making the Government South Canterbury's sole creditor and giving it effective control of the company.
Finance Minister Bill English said the plan was finalised last week but kept under wraps until receivers were called in after last-minute talks with potential buyers of the company ended unsuccessfully at 4am yesterday.
South Canterbury's owners - including Mr Hubbard, who has spent hundreds of millions of his own cash in an ill-fated bid to prop it up - have lost the lot.
Yesterday Mr Hubbard condemned the Government for preventing him working to save South Canterbury by placing his affairs under statutory management two months ago.
This, he said, was "a body blow" for the company.
But Prime Minister John Key said the global recession and the company's poor-quality lending had "taken us into the situation we're in today".
"They lent money to people who no longer can repay it or on assets that no longer have any value ... that's the same position that other finance companies found themselves in."
Many of the loans were "bonfire material", he said.
The Government had moved "to put ourselves in the strongest possible position to now effectively control through the receivers the assets that were on South Canterbury Finance's balance sheet".
Government control of the failed company would ensure minimum effect on assets in the same sector and in the wider economy, he said.
While it laid out $1.775 billion yesterday, the Government expects its eventual loss will be reduced to about $600 million once the company's assets are realised over three or four years. That is included in $900 million it has set aside to cover its net losses under the guarantee.
Mr Key said the Government's finances could handle the payout and credit ratings agencies had assured the Treasury it would not have any immediate effect on the country's credit rating.
Although the sum involved would appear large to struggling taxpayers, "it is relatively small compared to other losses the Crown has incurred with the deterioration, for instance, in ACC", Mr Key said.
Opposition Leader Phil Goff said yesterday's payout was "a huge cost to the taxpayer for the ordinary Kiwi who's struggling to save for him or herself".
"Having to bail out the investors of South Canterbury Finance will come as a huge burden."
Mr Goff said the company's fate was "sealed by the Government's failure to get a proper economic recovery".
But Mr English said South Canterbury's failure was not a political matter.
The company had grown too quickly without suitable infrastructure and had then been caught out by changes in the market caused by events in the world economy.
As well as its finance company operation, which lent to farms, property developers and other businesses, South Canterbury also owns a helicopter business, the pipfruit business Scales Corp and has about a 30 per cent share in 25 dairy farms.
Mr English said there would be "no rush to realise the value of the assets in some kind of fire sale".
The company would still operate with existing loans in place and there was no pressure call in loans and disrupt the many businesses in the South Island that had borrowed from it.
Retail investors are expected to get their money back within a month.
WHAT IT WILL COST
* $1.7 billion
What the Government spent yesterday bailing out South Canterbury's investors
* $1.17 billion
What the Government expects to recover from South Canterbury's receivership
* $600 million
Final bill for taxpayers