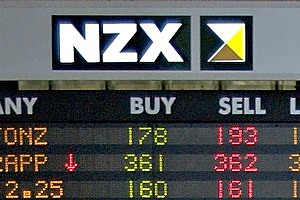 The New Zealand sharemarket rose today on a tide of earnings results and after Wall Street snapped a four-day losing streak.
The benchmark NZX-50 index closed up 12.199 points, or 0.406 per cent, at 3018.254. It dipped slightly from better levels near the close.
The consistent message in results released today was that costs have been cut and companies are well-placed for the recovery. Sales from Postie Plus, however, turned down in the fourth quarter suggesting consumers are still cautious. The company's share price fell a cent to 31.
There were many bright spots.
Nuplex shares rose to a three-month high of 319 when its profit surge beat forecast. The company continued to focus on improving margins and said current demand was stronger than a year ago. It closed up 20c at 315.
Air New Zealand talked about the potential for showcasing New Zealand at the rugby world cup next year as it reported today and its shares gained 5c to 126.
Ebos rose 15c to 675 after describing its result as outstanding, saying its businesses were in the best shape ever. Ebos supplies a range of medical, surgical, retail, dental and scientific products to the Healthcare market in New Zealand and Australia.
Auckland International Airport delivered a better than expected annual result, with underlying net profit after tax of $105.05m being 0.8 per cent lower than the previous year. Its shares rose 2c to 199.
Port of Tauranga rose 3c to 668 after it was identified as a logical choice for bigger ships, while Lyttelton Port of Christchurch, which also got the nod in an industry report yesterday, was untraded after reporting today.
NZ Oil & Gas fell a cent to 118 after reporting a full year net loss of $3.3m as exploration costs ate into earnings.
Tourism Holdings rose 2c to 81 after a return to profit, but said it was still performing below expectations. Hellaby fell a cent to 185 after reporting a surge in profit and putting its hand out to shareholders with a rights issue.
Telecom rose 3c to 202, Fletcher Building rose 4c to 753 and Contact Energy eased 2c to 570.
Vector and Fisher & Paykel Healthcare report tomorrow.
"Two years down the track almost from the failure of the Lehman Brothers investment bank in 2008 and we are still playing a guessing game," BNZ chief economist Tony Alexander said.
"It is certain that over the next two years we will receive further negative and positive surprises which will at times produce sharp changes in sharemarkets, exchange rates, and interest rates."
In the United States, stocks staged a comeback, breaking a four-day losing streak by major indexes, as key technical support triggered bargain hunting that offset weak economic data.
The Dow Jones industrial average rose 0.2 per cent to 10,060.06, the Standard & Poor's 500 Index added 0.3 per cent to 1055.33, and the Nasdaq Composite Index gained 0.8 per cent to 2141.54.
- NZPA