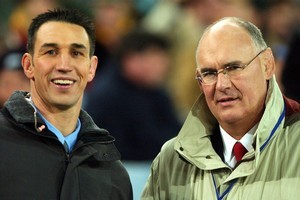 Former All Black stars Andy Haden and Ian Jones are among 240 investors in the Fiji Hilton owed an estimated $5.5 million in unpaid rent.
A group of owners at the Denarau Island resort are threatening to lock up their villas unless the situation is sorted out.
Apart from one monthly payment from the receivers now controlling resort developer Neville Mahon's companies, the owners have not seen a cent since September 2008.
The resort, built in the mid-2000s and never fully completed, attracted high profile investors including former Fisher and Paykel Appliances chief executive John Bongard and businessman and ex-trade union boss Rob Campbell.
Owners can use their villas for 10 weeks a year and the rest of the time Hilton rents out the rooms.
Receiver Grant Graham of KordaMentha said $1.8 million was about to go to villa owners.
"Big deal," Haden said.
There was $4 million to $5 million in the pot, and the receivers had taken $1 million in fees, he claimed.
"We are no further ahead than we were when they took over, and we are $1 million behind."
Receivers were appointed to Denarau International and Denarau Investments in September last year.
However Haden also described the owners' threats to lock up the villas as a "dumb" move.