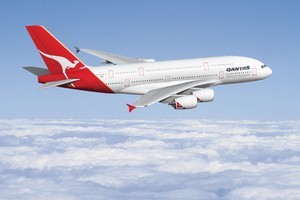 Qantas is wooing the top end of the travel market with a series of initiatives to minimise queuing at the airport for domestic flights.
The airline has invited about 100,000 of its premium frequent flyers to take part in what it calls a "Next Generation check-in experience", using a new frequent flyer card fitted with a smart chip.
Starting next week at Perth Airport, these passengers can check in simply by tapping the card against a scanning point, with details such as seat number, departure gate and boarding time delivered via a text message.
Later in the year premium frequent flyers will receive a personalised electronic Q Bag Tag that eliminates the need for printed baggage tags for checked luggage, in what Qantas claims is world-first technology.
Executive manager for customer experience Alison Webster said the changes would benefit all passengers, but especially premium frequent flyers and business travellers.
"We are creating a process at the airport for our premium customers that will make check-in so smooth and easy it basically disappears," she said yesterday.
Qantas research had shown passengers found queues a "real point of pain" which contributed to making travel more stressful.
Ms Webster said the changes would not result in any staff cuts.
Qantas dominates the corporate travel market in Australia, but new Virgin Blue Holdings chief executive John Borghetti has signalled his intention to grab more of these profitable travellers.
- AAP