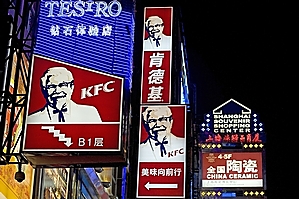 The Colonel's army is on the march. Vast swathes of China have fallen under his dominion, and he is making inroads in India and Russia.
It is one of the great American conquests of our time: the Kentucky Fried Chickenification of the middle classes in the world's emerging economies.
And it all means KFC's parent company, Yum Brands, which also owns Pizza Hut and Taco Bell, has earned the exclamation mark on which it insists.
With 37,000 restaurants in 110 countries, Yum eclipses even that more famous icon of US colonisation, McDonald's, as the world's largest restaurant chain in terms of outlets.
For Yum the task is to forge onward, but also to shore up its gains against hungry McDonald's and other fast-food giants, while trying to keep the home fires burning back in the US, where sales are challenging because consumers are watching their wallets and waistlines.
The 23 years since Yum opened its first KFC in China, near Beijing's Tiananmen Square, provides a masterclass in overseas expansion. Its success has tempted a hundred imitations and whose progress in the future will be one of the most closely watched stories in corporate America.
"Yum's is an amazing story about how they conquered China so much earlier than their main rivals," says RJ Hottovy, an analyst at Morningstar. "Part of the reason is they built their supply chain and their distribution system quickly, and that is giving them a real competitive advantage. When you are setting up restaurants in new territories it is often difficult to procure packaging and develop good relationships with suppliers."
China has become so important to Yum it now splits its sales there into a separate division ranking, equal to its US market. Last year, 33 per cent of its operating profits came from China, nudging the 38 per cent from the US, and it sees much greater potential still. Adding in Pizza Hut, which is pitched as a mid-market family dining experience in China, there will be 475 new Yum outlets there this year, on top of the record 509 added last year.
There are almost three times as many KFCs now in mainland China than McDonald's, which first opened its doors there in 1990.
Hottovy says competition is hotting up, however. "When Yum was accelerating in China, McDonald's was working on a turnaround in the US, but since that has been completed, it has turned its attention to international expansion and is planning to double its presence in China," he said.
"McDonald's, with its well-known brand, its advertising and scale, will be a major player. But there is room for both. This is all about the rise of the middle-income consumer in China."
All the Yum brands are storied US companies. KFC was founded by Harland Sanders in 1952, when he was already an established Kentucky businessman and had earned the title "Kentucky Colonel" for his services to the state. Pizza Hut traces its history back almost as far, and Taco Bell, whose growth has mirrored the growth of the Mexican community and the popularity of its cuisine, was founded in 1962. The three chains were pulled together by Pepsi, which ran a restaurant division until 1997, when it decided to spin off the lot.
The growth trajectory in China has not been without setbacks, including a dip in sales at existing restaurants there in 2005, but David Novak, the former Pepsi executive who has been Yum chief executive since 2000, boasts that the company's infrastructure in China will not only carry it through but allow it to best its rivals.
"China is predicted to be the fastest-growing major economy in the world," he said in the company's latest annual report.
"In fact, it is expected to grow its middle class from around 300 million today to 500 million people in 2020."
It is worth remembering that what Yum is doing has never been done before. Who really knows what the Chinese appetite for Western-style fast food really will turn out to be? Both KFC and Pizza Hut have adapted their menus to local tastes, and their advertising, too. But, continuing with its second-quarter results, the focus is shifting to other expansion opportunities in China and beyond. The company is trialling a new Chinese food chain, called East Dawning, so it can use its formidable distribution infrastructure for a more diverse range of brands and cuisines - just in case.
Then there are the other emerging markets. Yum has more than 70 KFCs in India, as well as 160 Pizza Huts, and it opened its first Taco Bell there in March. It promises to hit 1000 outlets in total by 2015, employing 50,000 people and raking in US$100 million in profit. Meanwhile, Novak is hoping to engineer a dramatic expansion of Taco Bell, too. "Two global brands - and one on the way," he is fond of saying.
Taco Bell, with its menu of Mexican staples, from burritos and nachos to tacos, brought in just 3 per cent of its sales from outside the US in 2008, but that low figure was not for want of trying. The chain has attempted launches across the world on several occasions since the 1980s, but never gained popular acceptance. It is only now sticking a toe back into the European market, with a return to the UK via a first outlet in a major Essex shopping centre, opened two weeks ago.
In the US, the focus is on sprucing up the menus across the Yum outlets, - making them healthier. At KFC, less chicken is being fried (hence a preference for using the initials) and more is being grilled.
At Pizza Hut, putting chicken wings on a wider menu has helped reverse a slide in revenues, while Taco Bell is pushing salads.
More importantly, perhaps, to the company's financial health is a move to switch the US business from being owned and operated directly by Yum from its headquarters at 1900 Colonel Sanders Lane in Louisville, Kentucky, to being run by franchisees. The revenue from licence fees is lower, but at least it is stable and the margins are higher.
In short, the stagnation of its US business does not mean that a major US corporation is doomed to stagnate itself, if it can seize opportunities around the world. Yum is on course to boost earnings by 10 per cent this year, despite falling like-for-like sales in the States.
It has peppered its missives to investors with fighting talk, promising to "dramatically improve" its US brands and "aggressive international expansion", with 1400 new outlets in 2010.
It wants to live up to its description of itself: "The defining global company that feeds the world."
SNACKERS SAY NO TO DOUBLE DOWN
KFC's much-hyped Double Down, a bacon and cheese burger which uses two slabs of fried chicken instead of bread, has not been a big hit with customers, CNN.com reports.
The company has sold 10 million of the sandwiches, says KFC spokesman Rick Maynard.
But analysts say this is only about 5 per cent of KFC's sales. For a new product to be considered a blockbuster it has to make up more than 10 per cent of sales, reports CNN.com.
The Double Down sparked a media frenzy when it was launched in the US on April 12. "It was a talked-about product, there's no doubt about that," said David Novak, chief executive of KFC parent company Yum Brands. "It's a big eat."
The Double Down has not been offered in New Zealand.
- Independent