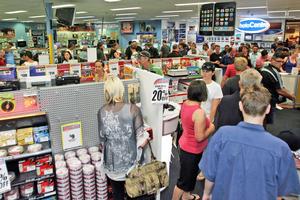 'Call me a cynic but the only reason I can see to buy a computer at these chains is to get a hire purchase deal.' Photo / Hawke's Bay Today
Computers are expensive beasts, and every few years you need a new one because the old one doesn't have enough grunt.
Most people make a beeline for the likes of The Warehouse, Harvey Norman or Dick Smith, assuming the deals on offer are cheap. More fool them, is Bargain Betty's attitude.
My last three computers came from pokey, cluttered, dingy shops. Why? Because they offer more bang for your buck - in my case I saved $200 a pop. And before you ask, I can speak geek, thanks to a couple of years writing for PC Week magazine.
When it comes to small computer shops, my favourites are Ezone Computers in Takapuna and PB Technologies in Glenfield. There are plenty of other equally good stores, such as ETC Computers, where my mother, aunt, brother's fiancee and a good friend have all shopped.
Most of these stores build your computer from scratch, using industry standard components, such as Intel processors and Seagate hard drives.
You get the same horsepower and quality, just not the Compaq or Acer name on the box.
To prove my point, I asked PB Technologies to give quotes for as near as possible to four computer deals on offer at the time of writing at Bond & Bond, Harvey Norman and Noel Leeming.
All four were cheaper. The biggest price differential was $436 on a near-enough-to-identical HP P6395 desktop PC. Harvey Norman's price with a 20-inch LCD monitor was $2399, while PB Technologies' machine - with a 23-inch monitor - was $1965.
People's usual response to this is "but what happens if something goes wrong?" The answer is you simply pop the box back to the shop and more often than not they can sort the issue on the spot, even if it's not technically their problem.
There are bound to be folk with a bad experience to recount. But when Consumer surveyed readers last year it found that fewer than 50 per cent of computer customers of Dick Smith, Harvey Norman, Bond & Bond and Noel Leeming rated them as providing good or very good after-sales service.
The same figure for small local retailers as a group was 76 per cent, and PB Technologies scored 80 per cent. Cheaper deals plus better customer service equals a happy Bargain Betty.
Call me a cynic but the only reason I can see to buy a computer at these chains is to get a hire purchase deal.