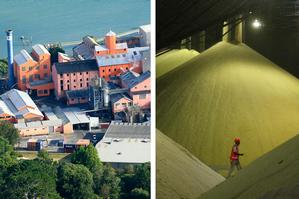 Wilmar International is to pay A$1.75 billion ($2.14 billion) to buy the sugar assets of Australian conglomerate CSR, including its stake in the New Zealand Sugar Company - owner of the Chelsea brand and Birkenhead refinery.
The Singapore-listed firm, also the world's largest palm oil trader, had its bid conditionally accepted by the board yesterday, beating an offer by China's Bright Food Group which had been in the pipeline for months.
The offer, expected to go through before the end of this year, must also receive approval from Australia's Foreign Investment Review Board and New Zealand's Overseas Investment Office.
CSR chairman Ian Blackburne said the sale of Sucrogen would allow the company to separate its two very different businesses - the sugar division and its building products business.
"We have been working towards this objective for some time and having explored a number of strategic alternatives the board believes a sale to Wilmar is in the best interests of shareholders and stakeholders in CSR," he said in a statement to the Australian stock exchange.
CSR managing director Jeremy Sutcliffe said the sale price was an attractive valuation and would deliver "significant value" to CSR shareholders.
The Wilmar offer includes A$403 million in net debt.
Buying Sucrogen will give Wilmar mills that produce 45 per cent of Australia's raw sugar and account for about 4 per cent of international trade.
Sugar prices may rise 30 per cent this year on increased demand, according to Brazil's Copersucar.
"A prominent investment bank had valued the business at A$1.5 billion so this looks to be a very good price for shareholders,"said Ben Potter, a strategist with IG Markets.
Guinness Peat Group, which has 30,000 New Zealand retail investors as well as a number of large institutional investors, owns 5 per cent of CSR.
A spokesman for GPG Australian director Gary Weiss said the firm, which has proposed splitting off its Australian assets, had no comment to make on the deal or what it would mean for its shareholders.
CSR expected its proceeds from the sale to be around A$1.6 billion but has not talked about making any kind of distribution to its shareholders.
"CSR is evaluating a range of capital management options to utilise these proceeds efficiently," it said in a statement.
The company was also considering a number of strategic opportunities.
The sale of the sugar division would leave CSR focused on its building products business.
Alternative plans to spin off the sugar business would be put on hold until the end of the year, it said.
"If for any reason the sale cannot be completed, CSR may seek to proceed with a form of demerger," the company said.
"Sucrogen has a good strategic fit with Wilmar's existing portfolio of high quality, processed agri-products," said Wilmar chief executive Kuok Khoon Hong.
CSR jumped A6c, or 3.54 per cent, to close at A$1.76 yesterday on the Australian stock exchange.
CSR was formed in 1855 and known as the Colonial Sugar Refining Company before changing its name in 1973 after an expansion into building materials and resource projects.
SWEET DEAL
* Wilmar International to pay A$1.75 billion to buy Sucrogen - the sugar division of CSR.
* Sucrogen owns 75 per cent of the New Zealand Sugar Company with Australian cane-growing group Mackay Sugar owning the remainder.
* New Zealand Sugar owns the Chelsea brand and Auckland's Chelsea Sugar refinery in Birkenhead (above).
* Deal expected to go ahead by or before the last quarter of 2010.
- additional reporting by BLOOMBERG