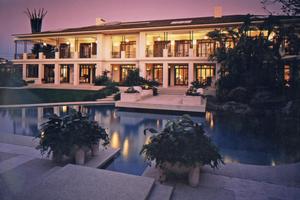 One of New Zealand's most expensive houses, once owned by the Sultan of Brunei, has just got flasher after its owner's secretive but major do-up.
Gary Lane bought the Herne Bay property Waimanu five years ago for just over $11 million, and has been secretly revamping its interior.
The once-neglected, abandoned, tropical-style hideaway off Cremorne St has now become a stylish, up-to-date retreat with flair from award-winning architects.
But like the sultan, Mr Lane is not living in the house much these days, preferring London to his bay sanctuary.
Lane spent $35 million buying 11 Herne Bay houses dubbed the "Sultanate of Herne Bay" from the Sultan in 2005.
In the last few years, he has brought in teams of builders, landscapers, architects and gardeners for one of the city's biggest but most hidden makeovers.
One of their initial jobs was to remove murals the sultan had painted showing New Zealand wildlife and scenery. There were also pictures of blocks of wood painted in stacks alongside fireplaces.
Murals on the walls of grand staircases, bedrooms and lounge areas were also painted over.
Gilt-edged and satin furniture, gold-edged paintings, heavy drapes and maps were returned to the sultan when Mr Lane took possession in July, 2005. Mr Lane also has rebuilt and updated a vast swimming pool in the grounds.
Mr Lane, who made his fortune selling the food industry Healtheries and Hansells businesses for almost $140 million four years ago, then on-sold the other properties. But he has kept the sprawling Hawaiian-style Waimanu on Argyle St for himself.
QV records Mr Lane as having bought the property in 2005 for $11,163,690 when it was valued at $13,135,000.
The property is surrounded by high-security surveillance equipment and is gated.
Last year, he had an upmarket kitchen designed by architects and partners Dave Mitchell and Julie Stout of Mitchell Stout. Julie Stout created a "garden room" from the old commercial kitchen.
A visitor said the old kitchen was very much in the "staff quarters" league, not integrated into the living areas.
That is now all changed.
Lina at Mr Lane's Viaduct Harbour business, Lane Capital Group, refused to talk about the house.
"It's not my business," she said, adding that Mr Lane was overseas until September.
A friend said he had an apartment in London where he lives during New Zealand winters.
The sultan preferred Auckland hotels to Waimanu. He stayed in a hotel for the Commonwealth heads of Government meeting in Auckland that year and stayed at the Stamford Plaza in 1999 during an Apec leaders meeting.
Waimanu was built by developer Graeme Soljan in 1987 and is based on Hawaii's Halekulani Hotel.
The sharemarket crash forced its sale in 1990 to Scottish millionaire and Glasgow Rangers Football Club owner David Murray, for $3.4 million. He sold it to the sultan in 1995 for $6.8 million.
Gary Rodney Lane
*Richlister with $200m
*Food/private equity investor
*Secretive businessman
*Owns the mansion Waimanu (above)
*Based on Hawaii's Halekulani Hotel
*He has offices in Viaduct Harbour
*In London until springtime