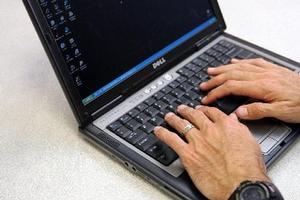 New Zealand should be debating how it will use the additional capacity delivered by the Government-backed ultra-fast broadband network to get the most out of the investment, says the author of the Digital Britain report, Lord Stephen Carter.
Carter was in New Zealand in his capacity as chief marketing, strategy and communications officer for global technology company Alcatel-Lucent, meeting clients, including Telecom and Transpower, policymakers and staff.
As Communications, Technology and Broadcasting Minister in the British Labour Government, Carter wrote the blueprint for boosting broadband speeds, switching to digital radio and combating piracy.
He said if discussions about how the capacity will be used take place while the infrastructure is being built then the network is often designed and deployed in different ways.
The New Zealand Government has committed more than $1 billion towards building a high-speed broadband network using fibre-optic technology to reach 75 per cent of the population.
Carter said the economics of large-scale residential fibre deployment don't necessarily add up, so a leap of faith is required.
"It's understandable that right now the real focus is on the infrastructure."
He said the arrival of devices, such as smartphones and tablet computers, with the rise in video conferencing and home-working technology, would boost demand for data hugely over the next few years.
"It'll come faster than you think," Carter said.
Last week, the Australian Government selected Alcatel-Lucent as a supplier of equipment for its national broadband network project.
The deal is worth A$70 million initially with a commitment to spend up to A$1.5 billion.
Carter said New Zealand was a key market for the French-based company and Telecom a big customer.
The global trend towards high-speed open-access networks would fundamentally change the telecommunications sector but Carter said there was no simple answer for telcos keen to successfully compete in this new environment.
"Every carrier is in a slightly different situation because their market is very different and that, in itself, is a challenge because the people who are doing the really innovative stuff are the people who are operating in global markets," he said.
Telecom is effectively competing against the likes of Apple, sold in every market in the world, while generating revenue from the local market.
Stephen Carter:
Chief marketing, strategy and communications officer, Alcatel-Lucent.
* Former Minister for Communications, Technology and Broadcasting in British Government.
* Wrote the Digital Britain report, a blueprint for boosting broadband speeds.
* Founding chief executive of Ofcom (the UK Communications Regulator).