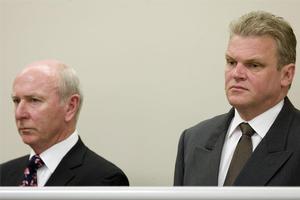 Disgraced Bridgecorp boss Rod Petricevic and finance director Rob Roest returned to court today on charges brought by the Serious Fraud Office relating to the fraudulent acquisition of a $1.8 million luxury vessel.
The charges were laid against Petricevic and Roest by the SFO last month for allegedly using $1.8 million of investors' money to purchase and maintain the operational costs of luxury yacht, the Medici.
They were remanded to reappear in the Auckland District Court on July 19.
The yacht was allegedly bought with Bridgecorp money, but it was owned by Poseidon, a firm Petricevic directed and owned.
Further charges were laid against Petricevic relating to allegedly dishonest payments totalling $1.2 million of Bridgecorp funds, authorised by Petricevic to a business entity called ABb.
The charges are separate from those laid under the Securities Act.
ABb was an unregistered company run by ex-model Janita Wright, a personal friend of Petricevic. She is not facing any charges.
Petricevic, Roest and former directors Bruce Davidson, Gary Urwin and Peter Steigrad were committed to trial last month after pleading not guilty to Securities Act breaches during a depositions hearing.
The prosecution alleges the directors lied to prospective investors in Bridgecorp's term investment prospectus, in an investment statement and advertisement.
Their trial is set down for July next year.
Bridgecorp collapsed in 2007 owing 14,500 investors almost $460 million. Separately Petricevic and Roest have been banned from managing a company for five years.