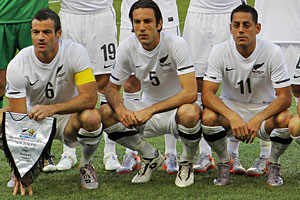 An Auckland shopping district has put its support behind the All Whites soccer World Cup campaign with Newmarket businesses "whiting out" their shops.
New Zealand play Paraguay at 2am (NZ time) on Friday in a bid to reach the next round of the tournament in South Africa.
The Newmarket Business Association said more than 100 businesses would white out or decorate their offices in the next 48 hours to support the All Whites.
"Fifteen years ago we all put on red socks to help the late Sir Peter Blake win the America's Cup," said Cameron Brewer, chief executive of the Newmarket Business Association.
"We're now asking people to go all white to show their support for our greatest football team ever."
The white theme already included designer fashion stores with white windows, bank staff dressed in white, trendy white washing on balconies, white cupcakes in cafes, and bars dreaming up white cocktails, said organiser Lea Worth, from the business association.
Newmarket Primary School would also wear white in favour of their uniforms tomorrow.
- NZPA