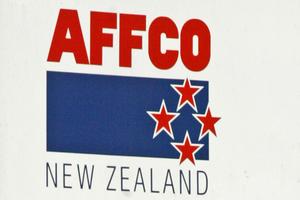 Photo / Glenn Jeffrey
NZX-listed meat processor Affco is the target of a full takeover bid by its largest shareholder, Talley's Group, which has agreed to buy out the next-biggest investor, raising its stake to 76 per cent.
Talley's, which owned 53 per cent has reached an agreement to buy out the Spencer family's Toocooya Nominees. It is now required by New Zealand takeovers law to make an offer to all shareholders. Talley's has indicated it plans to offer 37c a share, the same price agreed with Toocooya, valuing Affco at $187 million.
That price offers no takeover premium to shareholders as the stock has been trading at 37c since May 26. It has traded as high as 40c since the start of the year.
The Affco board said shareholders should take no action until directors had sought independent advice.
Toocooya holds agricultural interests of the family of former pulp-paper millionaire John Spencer, and the late Peter Spencer, one of the nation's biggest corporate meat farmers.
The family's wealth was estimated at $675 million in the NBR Rich List last year.
Toocooya said its preference was to hold wholly or majority-owned investments and it had taken the opportunity to "monetise" its Affco shares. It got $43.9 million for its 23 per cent stake.
Talley's, which owns 52.8 per cent of Affco, would own 76.2 per cent of the company once it acquires the Toocooya stake.
It is the second time Talley's has made a play for Affco. In 2006 it boosted its stake to more than 50 per cent, offering 39c when an independent valuation was for a price between 35c and 45c.
Toocooya did not accept that offer, complaining it did not fully reflect the company's underlying value. It also said in 2006 that Affco's future earnings and value "are potentially significantly higher than an analysis of the company's recent financial results would indicate".
Last month Affco reported a 4 per cent increase in interim profit to a net after-tax figure of $15.9 million in the six months to March 31 - up from $15.3 million in the same period last year. The net profit before tax of $21.88 million was up from $21.82 million last year.
The operating revenue of $547 million was $33 million lower than last year - the company said lower stocking rates and good weather encouraged farmers to retain stock.
"Our outlook for the full year remains cautious with no improvement to the competitive landscape expected in the second half," the company said.
Founded in 1904 as the Auckland Farmers Freezing Co-operative exporting meat to Britain, Affco Holdings listed in 1995 after a debt restructure and a 100 million public share offer at 50c. Its share price has see-sawed from 52c on listing day to a miserable low of 15c in December 2002.
In October 2001 Talley's bought 10 per cent of the company for 29.6c a share.
Affco owns 44 per cent of Dairy Trust, the owner of independent cheese maker Open Country Cheese, which Fonterra regards as a competitor for domestic milk supply.
Affco employs more than 2800 people, at plants in the Bay of Islands (Moerewa), Waikato (Horotiu), Bay of Plenty (Rangiuru), Hawkes Bay (Wairoa), Wanganui (Imlay) and Feilding (Manawatu). It has a joint venture with South Pacific Meats at Motueka (Awarua) and hide plants at Napier and Wiri.
AFFCO
* Market cap - $187 million
* Revenue - $1.08 billion (2009)
* Profit - $25.36 million (2009)
* Employs - 2800
- NZPA, BLOOMBERG