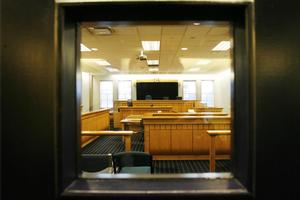 The property developer at the centre of an alleged $47.8 million loan scam made a brief appearance in the Auckland District Court this morning on charges brought by the Serious Fraud Office.
The man, who has interim name suppression, faces 62 charges dating back to 2003.
Court documents show the man is charged with obtaining loan sums of up to $4 million by making false finance applications and leases, or forging sale and purchase agreements to secure funding for property developments.
The man is alleged to have used relatives to secure loans from a fund management company. Many of those loans were for properties in the Auckland suburbs of Mt Eden, Epsom and Pt Chevalier.
Judge Cunningham remanded the man on bail to reappear in the Auckland District Court on July 21 for a post-committal conference.
At that date it is expected a call-over date will be set down to confirm when the case will go to trial.
The interim name suppression means nzherald.co.nz cannot publish the man's name, the company he allegedly defrauded, or the former public figure linked to the company, because it might identify him.
The suppression order is in place until the commencement of the trial.
A second property developer also allegedly used his relatives to secure millions of dollars in loans. He is understood to have left the country.