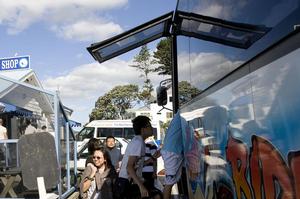 The tourism sector is making sweeping changes to its policy around Chinese visitors, in a bid to redress flagging satisfaction levels among some visitors here.
All souvenir shops, transport operators and activity providers visited by accredited Chinese tour groups will now be required to be "Qualmark rated" .
Accommodation providers are already required to be Qualmark rated, but this requirement will also be needed for the retailers, and activity providers by January 1, 2011.
Bus operators will need the accreditation by July 1, 2011 if they want to keep doing business with the approved Chinese tour groups.
There has been concern in the industry for some time that New Zealand's reputation as a tourist destination in China is being threatened by the business practice of some tour operators.
In 2008 the Herald reported a worrying increase in kick-back schemes involving Asian coach tour operators, who would take a tour group to a specific retailer, if that retailer then agreed to pay a share of the sale proceeds from members of that tour group to the driver or tour operator.
New Zealand gained 'approved destination status' from the Chinese government in 1999, making it easier for Chinese tourists to visit our country.
Tourism New Zealand chief executive Kevin Bowler said satisfaction levels among Chinese visitors had improved since the ADS code of conduct was introduced in 2007, but were still well below other markets.
Average satisfaction levels among Chinese visitors to New Zealand in 2008/2009 were 8.6 out of 10, below average satisfaction across all markets of 9.0
"About half our Chinese visitors travel here on ADSA visas. Many spend just a few days in New Zealand - they go home less satisfied and spend less while they are here," he said.
The way travel was sold in China and the distribution structure around how tours were organised and paid for meant souvenir shops were influential in the distribution chain, he said.
"Unfortunately this can result in visitors feeling pressured to shop or being exposed to overprice shopping experiences, which is impacting satisfaction levels among ADS visitors."
Qualmark endorsement would give some influence and control over shopping experiences that were included in ADS tours, Bowler said.
About half of the 100,000 Chinese visitors who came to New Zealand in the year to April 2010, travelled here on ADS visas.
In 2008 China overtook Japan as New Zealand's fourth-largest visitor market.
Chinese visitors spend a median of three nights in New Zealand and contribute about $3200 each to New Zealand's economy, Tourism New Zealand statistics show.