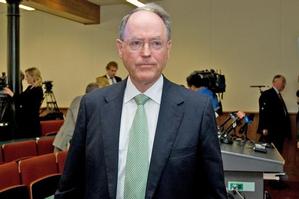 Don Brash has replaced Peter Huljich as managing director of Huljich Wealth Management. Photo / Mark Mitchell
Don Brash thinks his Kiwisaver critic Gareth Morgan should be subject to the same stringent regulation Huljich Wealth Management happily chafes under. So does Morgan.
The spat between the pair, which has played out in the pages of the NZ Herald's business section, is over former managing director Peter Huljich's depositing of his own money to offset losses incurred by Huljich's Kiwisaver funds.
The scandal cuts to the heart of proposed changes to regulation of the industry, which, it is believed, should be in place by the middle of next year.
Commerce Minister Simon Power, in a speech late last month, signalled that all Kiwisaver providers, not just the six default providers and Huljich Wealth Management, will be subject to greater levels of scrutiny and disclosure requirements.
Kiwisaver providers are not like banks, in that there is little difference in choice between the actual services provided, notes Milford Asset Management's Brian Gaynor.
There is genuine competition and comparable performance measures by which to choose a fund manager. And by topping up the funds, as Brash admits, Huljich had mis-stated the success of his management to other providers' commercial disadvantage. "That may be why they acted with such venom," comments Brash on the opprobrium heaped upon Huljich and the company he now heads.
Morgan's assessment is certainly vituperative. "If Huljich had been in the United States, then as soon as they admitted to spruiking their returns, the Feds would have moved in [and] they would have been suspended from making offers to the public and not allowed to practice until the remedies had been applied," he says.
But Brash says other providers - and he declines to name names - have amplified returns by not charging fees, boosting the unit prices.
"Peter Huljich contributed to funds and that had the effect of increasing the unit price but waiving fees has a similar impact - all those things should be disclosed," he says.
There is unanimity for regulatory reform among Kiwisaver stakeholders, although Gaynor's endorsement is a little half-hearted: "I accept the fact there's going to be increasing regulation; the world is changing and you either stick your head in the sand or you embrace it. We're happy to embrace the changes."
Change will come upon the formation of the new Financial Markets Authority, which combines the functions of the Ministry of Economic Development's insurance and superannuation unit, the Securities Commission, the NZX's disciplinary tribunal and the Companies Office's compliance and enforcement division.
Legislation to form that structure is likely to be in place by the end of the year but it is unclear whether a separate amendment will be required to bring all providers under the same regulatory regime. At present, the government actuary David Benison can only enforce additional reporting requirements where there is a demonstrable breach, such as in the Huljich case. The change means providers will have to provide quarterly reports indicating compliance with the trust deed and, if any non-compliance is reported, a statement of action to address the breach.
Everyone will also likely have to file quarterly summary investment return reports for each fund and the trustees will have to provide signed Statement of Investment Policies and Objectives and benchmark performance standards.
Would Huljich have been able to boost his funds' performance had the stricter regime been in place? "I don't want to comment on that," Brash says, citing the complication of an ongoing Securities Commission investigation.