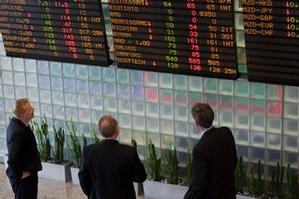 The New Zealand sharemarket plunged into the red again yesterday, following Wall St down amid a new wave of concerns about Europe's debt problems and the shaky euro.
The NZX-50 closed down 1.9 per cent yesterday to 3003.83.
The market has now fallen more than 10 per cent since the most recent high of 3335.51 hit on April 14, marking it as an official correction.
Craigs Investment Partners head of research Craig Lister said the weak run by New Zealand's market was not surprising.
"The general trend is still sideways and upwards but until Germany and the rest of Europe can put people's minds at ease it's hard to see any strong rebound.
"Nothing has changed earnings-wise here but the concerns over European sovereign debt - until there is some resolution we are going to have these up days and down days."
The New Zealand market has fallen in seven out of eight of the last trading days. Lister said concerns by international investors about Australia's mining tax were not helping New Zealand.
"It brings into question how trustworthy the leadership is there. The Aussie dollar has been sold down aggressively. That is probably dragging us down again."
Australia's ASX 200 closed down 130.1 points, or 2.96 per cent, at 4265.3.
Meanwhile Asian stocks and the Korean won fell to a 10-month low after a report that North Korean leader Kim Jong-Il ordered his military to prepare for combat last week.
The MSCI Asia Pacific Index dropped 3.1 per cent and was set for its lowest close since July 30, 2009.
Japan's Nikkei index fell 3.1 per cent to 9459.89, its lowest finish since November 30.
Standard & Poor's 500 stock index futures lost 1.5 per cent.
"Increasing tensions on the Korean peninsula, coupled with deepening concern about sovereign debt risks in Europe, are affecting investors' sentiment," said Kim Young Joon, a fund manager at NH-CA Asset Management in Seoul.
"But much of North Korea's comments appear bluffing. I don't think another disastrous event will happen."
The New Zealand dollar fell to US66.75c at 5pm yesterday, from US67.39c on Monday.