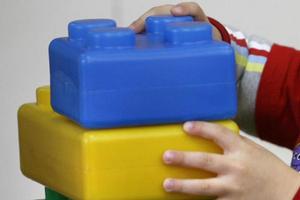 The early childhood education sector is "devastated" by the Government's decision to remove recognition for fully qualified centres, saying it would "dumb down" early childhood education.
The Labour Party said the change would push costs of up to $25 a week on to parents and affect more than 100,000 children.
Education Minister Anne Tolley today annouced an extra $107 million would be spent on ECE in 2010-11 - about half what had been expected previously.
The savings would come from removing extra funding for centres that had more than 80 per cent qualified staff, Ms Tolley said.
Click here for Political Editor Audrey Young's reaction to the announcement.
Otago University education professor Dr Helen May said her students had been devastated when they heard about the change today.
It had been perceived as a slight on their profession, Dr May said.
"It's a question that's never asked about schools [to have fully qualified staff]."
It was a setback after a long history of trying to get recognition for early childhood staff, and this was especially important because the quality of early childhood was crucial in the longer-term well-being of children, she said.
"It's just a shame to see that [ECE staff] will have to justify their profession again."
Labour Party early childhood education spokeswoman Sue Moroney said 108,000 children would be affected by the policy change.
Affected centres would be reluctant to fire their qualified staff and would likely pass on extra costs to parents, Ms Moroney said.
Three of five children in ECE centres would be affected, she said.
Labour's education spokesman, Trevor Mallard, said the $100 million shortfall in ECE funding amounted to about $25 a week per parent.
The teachers' union, NZEI, said the changes would "dumb down" the sector.
"[The Government] makes it look very positive but they're doing it at the cost of dumbing down people who have been providing 100 per cent qualified staff," said vice president Judith Nowotarski.
Currently, ECE providers are encouraged to have up to 100 per cent registered teachers with higher funding for registered teachers.
But from February 2011, the funding rate for registered teachers will be lowered and will be given only for up to 80 per cent of a provider's registered teachers.
The result is there will be little incentive for providers to have more than 80 per cent registered teachers.
The changes were aimed at redirecting funding and managing rapidly rising costs, Ms Tolley said.
"Government values quality early childhood education and the contribution it makes to a good start for our children's education," she said.
Also in the Budget, the Government will focus spending on high-need areas.
Ms Tolley said of the extra funding $91.8m over four years will be poured into five "intensive, community-led participation projects".
They will focus on high priority areas and will be similar to existing projects in Counties Manukau and Tamaki.
"We know Maori and Pasifika children, and children from lower socio-economic areas, benefit most from ECE, but they are the least likely to be involved," Mrs Tolley said.
Te Government will also increase the non-staff portion of the ECE funding to providers and funding for parent engagement programmes, supported playgroups and support for ECE providers to work more effectively with Maori and Pacific Island families.
Victoria University childhood studies Associate Professor Dr Carmen Dalli said another disappointment in the early childhood budget was that an election promise to increase the child-to-staff ratio had not been included.
"For the election they said the ratio will go to one-to-four from one-to-five. Post-election that disappeared. Last year, the Minister promised us it would gradually come back on the agenda. Well, it hasn't. It's not on this Budget," Dr Dalli said.
Quality care of babies had been shown to be the most important factor in having children grow up well, and changes in the Budget could negatively affect that, she said.

- NZPA with NZ HERALD STAFF