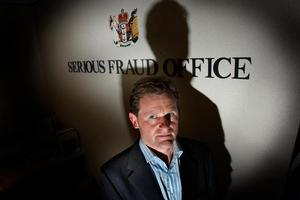 Today is D-day for the Serious Fraud Office.
New chief executive Adam Feeley told the Herald at the end of January that he had set a deadline of March 31 to decide if charges would be laid against people it is investigating over their finance-company activities.
This month the SFO started an investigation into the failed Capital + Merchant Finance after a referral from its receiver, Grant Thornton.
It is also investigating Bridgecorp, Blue Chip, Five Star, Club Finance, Nathans Finance, National Finance and Clegg & Co.
The SFO has yet to charge any finance company directors despite more than two-and-half years having passed since the collapse of Bridgecorp left 14,500 investors $459 million out of pocket.
Feeley, a lawyer who joined the SFO from the Eden Park Redevelopment Board in November, promised finance companies would be his number one priority.
He said investigations had taken too long in the past.
"I think the SFO could have moved faster."
In January Feeley said he expected simple fraud cases such as the recent ASB fraud to take up to three months to investigate and more complicated cases to take six months.
The deadline comes as the SFO heads into a major restructure, with five senior staff set to be lost at the white-collar crime agency.
Details of the restructure are expected to be announced next month.