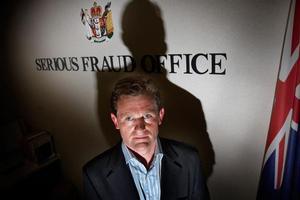 The Serious Fraud Office (SFO) expects to know by the end of the month what further action it will take on various finance companies under investigation.
Yesterday, the SFO said it had started an investigation into Capital + Merchant Finance following a referral from Grant Thornton, the receivers of companies within the Capital + Merchant Group.
Today SFO chief executive Adam Feeley told Radio New Zealand he expected the SFO should have a preliminary view in about four weeks as to what it was going to be looking at in detail with Capital + Merchant, and the nature, scope and likely timeframe for an inquiry.
At the same time, the SFO should have a "pretty clear position" by the end of the month on most, if not all, of seven or eight other finance companies it was looking into.
That would include decisions on whether the SFO was going to cease an investigation, lay charges, or set a timeframe for concluding the investigation, said Feeley.
In the case of another finance company, National Finance, the SFO had already laid charges. It had earlier confirmed it was also investigating other finance companies Bridgecorp, Five Star, Nathans Finance, Western Bay Finance and Club Finance.
In the statement on Capital + Merchant yesterday, Feeley said the investigation was focused on specific transactions which, on current information, appeared to have benefited certain related parties through the use of Capital + Merchant funds in contrived structures and with questionable supporting documentation.
Capital + Merchant Finance was placed into receivership in November 2007, owing $190m to 7000 investors.
Today, Feeley told Radio NZ the time taken to start the inquiry was longer than he would have liked, but the nature of the issues that had come to light were too serious to ignore.
Essentially a related party was one where there was not a commercial arms length relationship between the two parties in a transaction, typically where one party was able to influence another in a way they would not otherwise be able to.
- NZPA