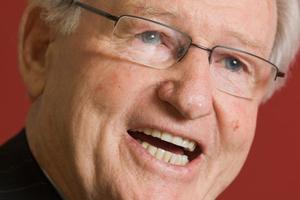 KiwiRail is behind its revenue and profit targets for the half year to December but says it is "making good progress towards a sustainable future".
The state owned enterprise, which owns the rail companies, Interislander ferries and Dunedin's Hillside Engineering, today released its financial results for the six months ended December 2, 2009.
Chairman Jim Bolger said comparisons with the half year to December 2008 were difficult because the Government took over the business during that period.
Comparison with targets set for the year in KiwiRail's Statement of Corporate Intent (SCI) were more valid, he said.
KiwiRail said revenue of $299.7 million was just over 8 per cent below the SCI target of $327.8m, but earnings before interest, taxation, depreciation and amortisation (ebitda) of $16.1m were almost 12 per cent up on target of $14.4m.
The net profit after tax figure of $125.6m was 66 per cent below the SCI target.
For 2010 KiwiRail budgeted a profit of $348.3m.
However, that includes a government grant of $500m for new Auckland trains and without that it is forecasting a loss of $151.7m.
The full half year accounts will be tabled in Parliament tomorrow.
Despite difficult trading conditions over the first six months of the 2009-10 financial year, KiwiRail was making good progress towards a sustainable future, Mr Bolger said.
"During the half year, we made considerable progress towards improving relationships with key customers and we took significant steps towards improving the reliability of the business. However, there is a lot more to do as highlighted by the recent issues in Wellington that affected our customers," he said.
Freight carried on rail during the first six months of the financial year was only marginally down on the same period the year before, despite industrial action which reduced coal volumes.
During the half year KiwiRail signed an agreement with Fonterra to move greater volumes of dairy produce by rail, committed to buying 20 new diesel electric locomotives and the commissioned the Arahura Road-Rail bridge on the West Coast.
"Our work on the Auckland and Wellington urban rail projects represents the biggest upgrades since the networks were first established."
Over the next six months, KiwiRail was looking to increase revenue and manage operating and capital expenditure, Mr Bolger said.
The ebitda target of $59.6m for the 2010 financial year of $59.6 remained the company's objective.
The Government paid Australia's Toll Holdings for $690m in July 2008 for the rail company. The price was widely criticised and less than a year later the rail assets were valued at just $349 million.
KiwiRail receives $90m a year from the Government.
- NZPA