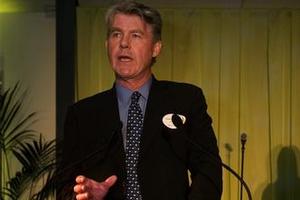 APN News & Media, publisher of The New Zealand Herald and nzherald.co.nz, is reporting an improvement in advertising revenue for its publishing business in this country in the final three months of 2009.
The Sydney-based company's assets on this side of the Tasman, along with the Herald, include nine regional daily newspapers, more than 30 community titles, magazines and The Radio Network.
Earnings before interest and tax (ebit) for the NZ Publishing division in the six months to December fell 11 per cent from a year earlier to A$36.4 million ($46.7 million). In local currency terms the decline was 9 per cent.
Revenues at NZ Publishing fell 13 per cent to A$164.3m, or 10 per cent for local currency.
At the NZ Radio division ebit fell 22 per cent to A$7.7m, with the local currency drop 20 per cent. Revenue at NZ Radio was down 15 per cent - 12 per cent in local currency - to A$43.4m.
APN chief executive Brendan Hopkins said NZ Publishing had a better fourth quarter, with some improvement in advertising revenue, particularly from retail and national clients.
While the radio market in this country continued to be challenging, there was good cost control and better progress on direct advertising sales.
In January, the market had been in line with the year earlier, providing an early sign of improving conditions for 2010, Mr Hopkins said.
APN said that although revenue fell 10 per cent at its publishing business in this country for the entire half, fourth quarter revenues had improved that trend to be down 6 per cent. The year-on-year trend had turned positive in recent weeks.
A 12 per cent fall on a local currency basis in publishing costs in this country reflected the benefits of restructuring programmes introduced in the past two years, the company said.
The radio market in this company underperformed compared with Australia, contracting 10 per cent in 2009, but tight cost management at The Radio Network, where costs were down 11 per cent in local currency terms, helped offset the revenue shortfall.
Trading for January was in line with the figure for a year earlier, providing an early sign of an improving market, APN said.
For the full 2009 year, APN reported net profit down 34 per cent from a year earlier to A$94.2m, while underlying revenue fell 14 per cent to A$1.03 billion.
Hopkins said APN had been able to mitigate the full effects of the global financial crisis through a combination of effective cost management and targeted sales campaigns. Total costs fell A$78m.
"The directors have seen an improvement in trading over the fourth quarter and in the early weeks of the New Year that provides confidence that 2010 will be a better year," APN said.
- NZPA