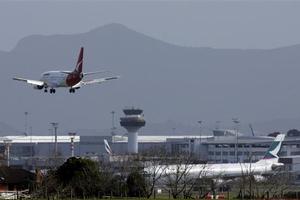 More than 99 per cent of eligible institutional shareholders have taken up Auckland Airport's 1 in 16 share offer, the company said today.
The airport company (AIA) said it had raised about $69.4 million through the offer, receiving "overwhelming support" from existing institutional shareholders.
Under the offer, existing shareholders could buy one new share for every 16 held at $1.65 each, a 13.3 per cent discount from the closing price on Tuesday.
The total offer, with the retail component to open on Tuesday, will raise $126.4m, the company said.
Auckland Airport chairman Tony Frankham said the success of the institutional offer demonstrated strong support for the company.
The shares taken up by the institutions are expected to be issued on February 4 and begin trading on the NZSX that day and on the ASX the following day.
Company shares are currently in trading halt and not expected to resume trading until the market opens on Tuesday.
The retail component will open on Tuesday and close on February 18. The offer is on the same basis as the institutional component.
Auckland City Council has a 12.71 per cent stake in the airport and Manukau City Council has 10.01 per cent. Auckland City Council said earlier this week it would finance the purchase of its entitlement through debt of about $16m. Manukau said it will cost $12.66m to maintain its stake.
- NZPA