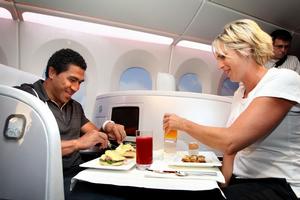 Air New Zealand's new "cuddle class" seats have earned positive feedback in some tourist markets, although some travellers are worried they are only for short people.
The announcement of the cabin redesign for the new Boeing 777-300 jets, which will for the first time allow economy travellers to lie flat, or a couple to curl up, won kudos on the internet yesterday for thinking of those stuck in cattle class.
The Belfast Telegraph noted the deal was aimed at couples and families, and would be the price of about two and a half seats.
It quoted chief executive Rob Fyfe warning the lie-flat beds were not an invitation to join the mile-high club. "Just keep your clothes on, thanks," ran the popular quote.
The Daily Mail's website in Britain noted that cuddling, and nothing more, would be tolerated on the new beds, and welcomed them on behalf of economy flyers.
"The new seating is a welcome development for economy travellers who have faced ever-decreasing comfort levels on budget airlines in recent years as business class seats have become ever more luxurious."
Airline-watchers noted that only couples with quite short legs - or families with very small children - could be expected to curl up comfortably in the new beds.
Transport blog Autopia noted: "It probably works best if you're not very tall or you're travelling with kids ... and that, of course assumes your travelling companion is actually someone you want to sleep next to."