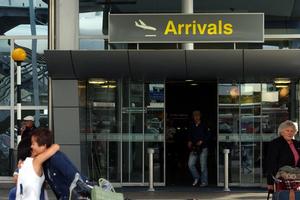 The Government is passing a law to let the proposed new Auckland Super City Council own existing council shares in Auckland International Airport Ltd, which when combined would normally force a takeover bid.
When Auckland City Council's 12.71 per cent stake is combined with Manukau City Council's 10.01 per cent, the new Auckland Super Council will own 22.8 per cent of the airport.
Under the Takeovers Code owners of more than 20 per cent of a company must make a takeover bid for at least 51 per cent of a company.
Auckland Airport's chairman Tony Frankham said Auckland Airport was disappointed at the Government's use of specific legislation intended to override the Takeovers Code.
The appropriate course of action would be for the Takeovers Panel to determine what happens, should the Auckland Council's shareholding exceed 19.9 per cent at the time of consolidation. A statement filed to the NZX today said the Government is introducing legislation to allow the consolidation of the airport shareholdings owned by Auckland and Manukau city councils, as part of the restructure of Auckland's local government into a unitary Auckland Council.
The Local Government (Auckland Law Reform) Bill is scheduled to be tabled in the House of Representatives today. Clause 53 provides an exception from Takeovers Code in relation to Auckland International Airport Ltd.
Auckland Airport said the 19.9 per cent threshold was a fundamental principle which was based on international precedent.
In 2007 Dubai Aerospace offered up to $3.80 per share in a bid to acquire a stake of 51 per cent to 60 per cent in Auckland Airport, and in 2008 then Finance Minister Michael Cullen moved to tighten rules on overseas investment, citing a bid for the airport from Canada Pension Plan Investment Board, as a reason. The shares were trading at $1.83 today.
NZ Superfund now owns 9.75 per cent of the airport and Accident Compensation Corp 3.1 per cent.
New Zealand infrastructure investor Infratil recently sold its stake but still manages the NZ Superfund stake.
Takeovers Panel chief executive Kerry Morrell said it would have been possible for the panel to have exempted the combined shareholding, in that the panel had the powers to do so, but no application was made.
The issue was discussed with officials but was not considered by the panel.
There were a number of areas in which the panel could grant exemptions and the panel currently has a paper out on the issue of the impact of so-called upstream takeovers when mergers occur and have an impact on ownership of code companies.
Criteria for evaluation include the purpose of the merger and the amount in excess of the takeover threshold.
- NZPA