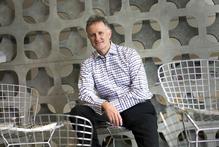 DraftFCB Australasian chief executive Bryan Crawford sees his appointment as president of the advertising agencies' body, Caanz, as marking a transition.
A former energy executive who took over the group in Auckland, Sydney and Melbourne three years ago, he says he was hired into adworld as "an experiment".
With his new role at Caanz (the Communications Agencies Association of New Zealand) he says he is now part of the advertising establishment.
The DraftFCB role followed years of stability under Greg Eichmann, whose replacement Nick Baylis defected swiftly to M&C Saatchi.
"People thought that [appointing me] was either brave or strange ... that they would sit back and watch me fall on my arse," says Crawford, who has a background in sales and marketing for companies including ACP Magazines and Vector.
The New Zealand agency has always been stable creatively and buoyed by a significant media buying operation.
It has doubled its billings in the past 3 years - with National Bank, GJ Gardner, Video Ezy among wins.
The cliche in agencyland is that "advertising is the show business of business".
But Crawford says that in the past advertising did itself no favours by allowing agencies to be "seen as court jesters - seen as being interesting but not being treated seriously for business decisions".
Because advertising agencies worked around deadlines there had been a tendency to focus on short-term issues and keep looking for new clients.
"But you have to have a long-term game."
Agencies had to avoid becoming the last agency solely focused on cranking out big branding campaigns.
Crawford sees a bigger role for agencies in developing products - and even compares them to the big management consultancies like McKinsey.
"The biggest challenge most agencies face is profitability," he said.
He acknowledged it was easy for an agency to talk a good game.
But he has had an impact at DraftFCB. One advertiser agreed with Crawford's appraisal that the agency was not flashy and had flown below the radar.
Crawford said the agency did not have big egos, though it has raised eyebrows in the industry for making TV commercials about itself.
One marketing source said it was a good agency and a safe pair of hands and had maintained a lot of energy and resources for its key client, Mitre 10.
Crawford has a reputation as being a straight talker - and with his background outside agencies, might bring a pragmatic approach to advertising executives.
As president he has quickly waded into industry politics, front-footing ad agencies' opposition to TVNZ plans to halve the commission paid to agencies.
Crawford said it was a big development for the ad industry - and that agencies would fight it. He says that Caanz seeks to present a united front.
"We are not big businesses like TVNZ. My whole approach is that this industry cannot allow itself to be only a loose federation of small businesses - because if we do, we will be screwed."
CAANZ
* Represents 86 advertising agencies with a combined turnover of $1 billion.
* Newly appointed president Bryan Crawford is new to the industry but since he took over DraftFCB 3 years ago he has doubled its billings.
* He says agencies should regret having been regarded as the "court jesters" of business.
By John Drinnan @Zagzigger

Email

John