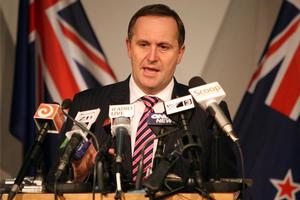 Prime Minister John Key today made a bid to turn around the Federated Farmers lobby group over farmers' accountability for livestock greenhouse gas emissions.
Farmers have opposed attempts by successive Governments to introduce an emissions trading scheme (ETS) imposing added costs on their businesses.
Mr Key told the lobby group's national council today the Government's new-look ETS would cost the average farmer only $3000 a year for "agricultural methane and nitrous oxide".
That was a 10th of what farmers would have had to pay under the Labour Government's ETS, he said.
He urged the farmers to be less agitated about the ETS and tackling climate change.
A $3000 annual cost for an average farm by 2030 was likely to be "way less than what your ACC increases are going (to be)".
Trade rivals would be quick to point out any perceived deficiencies in the sustainability of New Zealand produce, he said.
"You've got no option - if you don't deal with it, you will be punished," he told them.
"The consumers of the world will not buy your products."
In an apparent warm-up for Climate Change Minister Nick Smith's speech to its national council in Wellington tomorrow, Mr Key told the lobby tackling climate change could bring advantages "if we have the courage to seek them".
"As a trading nation, we simply cannot afford to get it wrong," Mr Key said.
"Our international reputation with our overseas consumers is at stake."
Dr Smith is expected to be challenged by farmers tomorrow on why they are being asked to pay part of the "carbon debt" incurred by their livestock, when Australia has exempted its own farmers from accountability.
Mr Key said he recognised "disagreement" from farmers about the ETS " especially since Australia has announced that agriculture will not be part of their ETS".
But he pointed out agriculture accounted for just 16 per cent of Australia's emissions, but 48 per cent of New Zealand's, and that since 2000, agricultural emissions on that side of the Tasman had dropped by 7 per cent, while New Zealand's had grown.
"It's easier for Australia to reduce emissions while excluding agriculture from their ETS, than it is for New Zealand," Mr Key said.
And he warned that depending on what happened at the United Nations climate change talks in Copenhagen next week, the Australia may have force more stringent regulations on its farmers, because agriculture was excluded from its ETS.
To protect New Zealand's "environmental credentials" the Government was pushing its proposed Global Alliance on agricultural greenhouse gas emissions.
Mr Key told the farmers that it would not be the ETS, an international agreement on climate change, or the UN that damaged New Zealand's agricultural sector.
It would be consumers.
British supermarket chain Waitrose this year banned New Zealand hoki because it was caught by "irresponsible" bottom-trawling.
The move was a big commercial success for the supermarket, said Mr Key.
" Consumers rewarded them for delivering products to the standards they wanted.
"For me, the lesson is very clear . W e can't force the consumers in those markets to buy our products if they think they do not measure up to their environmental standards."
- NZPA