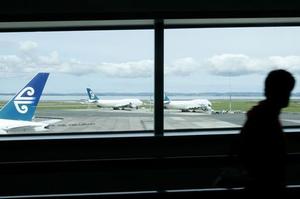 Infratil has lost about $54 million on its investment in Auckland International Airport but will use funds from a sale of the stake to help the possible purchase of part of Shell's New Zealand assets.
The utilities investor built a 3.87 per cent stake in the past three years but the airport share price tumbled after a partial takeover bid by a Canadian pension fund was scuppered by the Labour Government in April last year.
Infratil executive Tim Brown said his company had intended being a long-term shareholder in Auckland Airport but had sold yesterday at $1.84 a share, raising $87 million to fund other projects.
"We're not ecstatic about the price and we're not ecstatic about selling. There are other investments we can make with that capital which we think will be better for our shareholders."
During the past year, Infratil has raised more than $215 million through asset sales and has raised about $98 million of new capital.
Brown said this had been used to repay debt, fund "in-house" projects such as a generation project in Western Australia and new opportunities.
"Clearly we're anticipating those new investments will include Shell."
Infratil and the New Zealand Super Fund are preferred bidders for Shell's downstream assets, including its share in the Marsden Point oil refinery and 229 petrol stations valued at between an estimated $600 million to $1 billion. The higher figure includes inventory.
What stake Infratil would take has not been disclosed, but analysts are picking around 50 per cent, with the stumbling point being price.
Due diligence is due for completion by the end of the month, but Brown said he would prefer the process to be finished sooner rather than later.
"Clearly the market doesn't like not knowing what's happening with Shell."
Infratil's share price slid 7c, or 4.3 per cent, to $1.53 yesterday after announcing it was quitting its airport stake. "It's a little bit of a surprise to me after everyone saying it would be a good thing to do this - now we've done it the share price goes down."
Forsyth Barr head of research Rob Mercer said the Auckland Airport stake represented just 6 per cent of Infratil's assets and the investment had been badly hit by the unforeseen moves to block the sale.
The Canada Pension Plan Investment Board had been offering $3.65.
He agreed uncertainty over Shell was bearing on the share price and because the purchase price was difficult to determine this could continue.
"It's certainly created a lot of debate as to what the merits are. The market's looking at Infratil with the glass half empty - I think that's a little unreasonable. They have been forward thinking in having a capital structure with very little bank debt."
The company has just sold a 90 per cent stake in Germany's Luebeck Airport to the city of the same name for $64 million and is trying to exit its 32 per cent stake in Energy Developments, an underperforming renewable generation company in Australia.
First NZ Capital analyst Rob Bode said the Energy Developments sale could raise between $152 million and $169 million, which could change the dynamics of any purchase of Shell.
Auckland Airport shares closed down 6c at $1.87.