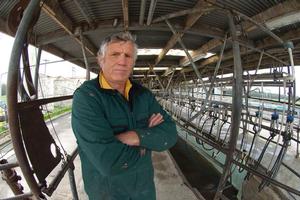 New Zealand's biggest privately held dairying operation allowed dozens of calves on one of its massive farms on North Island's central plateau to slowly dehydrate to death earlier this month, triggering a MAF investigation but no prosecution, an investigation by interest.co.nz has found
This video shows dozens of calves starving and near death at Crafar Farms' Benneydale dairy farm between Tokoroa and Te Kuiti earlier this month.
Poor management and the pressures of massive debts obtained during rapid expansion meant this farm was so poorly managed that none of the staff trained the calves to drink milk, allowing them to die of dehydration in a muddy pen even though their trough was often full.
MAF's inspectors were called in to this farm and others in the Crafar Farms group many times in recent years, yet this and others like it were allowed to keep operating.
Crafar Farms, which originally owned one family farm, grew over a period of a decade to have 20,000 milking cows, 10,000 other stock, 200 staff and around NZ$200 million of debt with Westpac, Rabobank and PGG Wrightson Finance.
Shortly after the video was taken MAF inspectors visited the property and destroyed many of the calves. Yet MAF told farm owner Allan Crafar this was just a management issue and not worthy of prosecution. MAF has confirmed to interest.co.nz it visited the farm near Benneydale on September 7 and slaughtered many calves. It said it was still considering the matter.
It is understood that MAF gave advance warning to Crafar Farms that it would be visiting the 1,800 cow farm, prompting an impromptu slaughtering of those calves closest to death by workers who bludgeoned them to death with hammers or slit their throats.
Farm owner Allan Crafar confirmed the incident in a 45 minute interview with interest.co.nz, but said he would never knowingly allow his cows or calves to suffer.
A long-time employee, Sam Webb, was now managing the farm, Crafar said. The farm manager on the Benneydale farm at the time of the neglect broke both legs in a tractor accident on the day the MAF inspector arrived and has not worked since.
"We're under a lot of pressure," Crafar said when asked why the calves had been neglected. Crafar Farms' banks have told the group to sell its farms to repay its debts.
"I do not condone calves being treated badly," he said, adding he cared more for his cows and calves than many humans. The MAF inspector who investigated had decided not to prosecute as it was a 'management' issue, Crafar said.
"They've (MAF) told us there won't be more action on this," he said, commenting that the MAF inspector "did a bloody good job" in shooting the remaining calves that were near death. "I'd much rather shoot a human than a calf."
Crafar was on the Fonterra Shareholders Council for six years until he was asked to leave in March 2007, although Fonterra has continued to allow Crafar to supply it with more than half of one percent of Fonterra's total output.
After interest.co.nz obtained the video, producer Bryan Spondre and Editor Bernard Hickey visited the farm where the calves had been kept to find out more.
When they drove up to the calf shed they were confronted by farm manager Sam Webb. He told them to: "Get the f*** off this property. You have no right to be here."
Bryan started taking photographs of the shed and Sam Webb manhandled him back into our car before swearing abuse and grabbing at Bryan's camera.
"I'll take both of you bastards out," he yelled.
Webb then punched Bryan through the open window of the car door. The punch was so hard it dislodged Bryan's contact lens.
Crafar told interest.co.nz he had reported our visit to the Police as trespassing.
"He should have hit you harder really," Crafar said in a rambling conversation in which he accused environmentalists, politicians, Fonterra, banks and others of conspiring to bring down Crafar Farms and the dairy industry.
"It's a civil war here. It's a financial and media war which is just taking out the most productive New Zealanders," he said.
Crafar disagreed that his farming group had grown too big, too fast and had taken on too much debt.
Crafar said management problems could have been rectified if he had been able to talk to managers and workers at the farms more often.
"My problem is that I don't get out among the farms often enough," he said. "They don't get enough of me," he said.
Crafar asked interest.co.nz not to broadcast the video because it would damage the country's image.
"I'm already dead. Don't run it because all that is going to do is hurt the our image," he said, referring to the image of New Zealand's dairy industry overseas.
Crafar Farms is now trying to sell its farms because it cannot service its debts, which are now worth more than the land. Crafar has previously confirmed that a Chinese company was considering buying the group whole, interest.co.nz has reported.
Read the full article and view the video here.