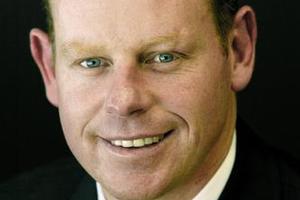 Chris Hunter, Hawkins Construction's chief executive, says central and local government work makes up 57 per cent of his company's order book. About a quarter of the jobs are for central Government.
A much larger amount of Hawkins' work is local government, particularly for Auckland City. Hawkins' work for that council includes the $113 million refurbishment and extension of Auckland City Art Gallery and the $80 million upgrade of Aotea Square. Civic carpark repairs worth $45 million, a $10 million Aotea Centre facade upgrade and $26 million for Aotea Square streetscaping are part of that huge job now well under way.
Hunter says Hawkins has won contracts for central Government work worth $283 million, local government work for $332 million and institutional work worth $270 million which comprises about a quarter of its order book. Private development work like Cooper and Company's new East Building in the Britomart centre on Auckland's waterfront makes up just 18 per cent of the order book and is worth $176 million.
"Central and local government work is very important to us currently and over the coming years. Given that the private sector investment is dropping away and there are major issues in projects getting funded, the central Government, local Government, utilities and infrastructure segments will make up a major part of everyone's workload over next few years."
He says some overseas builders have moved into New Zealand but they are still a relatively small presence.
"We are seeing overseas companies coming mainly via joint ventures with locals which has more upside than downside as most of the partners bring expertise which provides learning opportunities for Kiwi companies."
One of the biggest trends in the construction sector is the increasing use of direct payment agreements, where builders strike deals to ensure they get their money from a secure source which is usually a bank rather than a developer.
"Direct payment agreements have helped saved our industry from a lot of company failures and ensured banks have completed assets. Given the number of developers that have gone under - if we had been operating in the old manner where banks pay the developer and developer pays the builder, this would have potentially pulled building companies under and subcontractors and caused a lot of cash flow issues," Hunter says.
Hawkins, owned by the McConnell family of Auckland, this month scored one of the largest infrastructure jobs awarded by the Government this year.
Hawkins won the $118 million contract awarded by the Waikato District Health Board on new Waikato Clinical Centre which in early August was picked to create work for up to 400 people.
The announcement was seen as a major boost for Hamilton builders and sub-contractors. Health Minister Tony Ryall confirmed the board had signed the contract with Hawkins Construction to build a five-storey 32,000sqm building, which will house:
* eight new operating theatres
* space for four more operating theatres,
* a 40-place day surgery suite,
* a 34-bed intensive care-high dependency unit,
* a radiology department,
* outpatient rooms,
* intervention suites such as catheter labs, angiography and endoscopy.
The project is in addition to the board's $60 million emergency department and acute medical precinct project with 100 beds.
Hunter says the company has a long history with Waikato District Health Board having completed Waikato Hospital's new delivery suite and newborn intensive care project. Anne Gibson